Plants with beautiful foliage fill a special role in gardens and are especially appreciated for the long season pleasure they provide. Unfortunately, rabbits also find some of them tasty treats and nibble away with abandon leaving a ravaged misshaped mound missing leaves or creating an empty space in the garden. And then there are some foliage plants that rabbits hop right by and leave whole and beautiful. You can never be sure that a rabbit will avoid a certain type of plant but there are some that most ordinary rabbits disdain and six are described below. They are all easy to buy and grow.
Wormwood (Artemesia spp)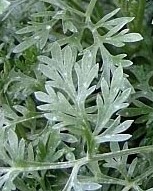 There are numerous good garden species some with silvery foliage, others with green and all are rabbit resitant. Two outstanding kinds are A. x 'Powis Castle' and silver mound (A. schmidtiana 'Nana'). Both of these have deeply cut aromatic silver foliage and form an attractive mound in the garden but the latter is more sensitive to heat and humidity and tends to melt our in warm climates by mid-summer.
Height: 'Powis Castle' 2-3'; 'Silver Mound' 10-14"
Foliage Color: Silver
Light: Full sun
Soil: Light, medium moist, well-drained; drought tolerant once established
Hardiness: 'Powis Castle' zones 5-8; 'Silver Mound' zones 3-7
Wall Germander (Teucrium chamaedrys)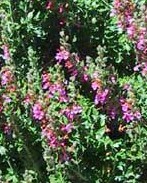 This small evergreen subshrub is native to Europe and is prized for its compact habit and evergreen aromatic foliage. The shiny dark green leaves are leathery, once inch long, and carried on ascending branched stems. Two to six white to purple ¾ inch flowers are carried in whorls of six to ten in loose, racemes in late summer for a long bloom time. Plants can be sheared to promote branching. The cultivar 'Prostratum has rosy red flowers.
Height: 10-12" H 12" W ('Prostratum' is 6-10" tall)
Foliage Color: green
Light: Full sun
Soil: Average, dry to medium moist, well-drained
Hardiness: Zones 4-9
Lamb's Ear (Stachys byzantina)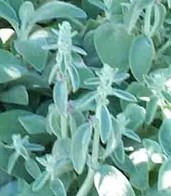 The white woolly leaves beg to be touched and are very appealing to children but not to rabbits. Most varieties have small purple flowers in whorls on erect stems that rise above the low growing mat of leaves but many gardeners consider them unsightly and remove them. The hairs trap moisture in humid wet climates and leaves develop rot.
Height: 6-15"
Foliage Color: Silvery white
Light: Full sun to part shade
Soil: Fertile, moist, well-drained
Hardiness: Zones 4-8
Lilyturf (Lirope muscari)

For a tough, grass-like evergreen ground cover, you can't beat lilyturf. A native of eastern Asia, lilyturf can be green or variegated with either white or yellow depending on the cultivar. The leaves are 1-1.5 inches wide and up to two feet long. The violet purple flowers are produced on densely packed spikes in fall and may be followed by round black fruits. Lilyturf is a very accommodating plant and can be grown in a variety of soils and light conditions. It makes an excellent edging or ground cover but watch out for slugs and snails.
Height: 12-18" H x 12-18" W
Foliage Color: Green, white variegated, yellow variegated
Light: Sun to shade
Soil: Average, medium moist to dry, well-drained.
Hardiness: Zones 6-9
Lavender Cotton (Santolina chamaecyparissus)

This mound forming shrubby plant is a native of the Mediterranean area and has evergreen aromatic gray-green foliage. The leaves are up to 1.5 inches long, pinately divided, and yellow flower heads ¾ inches wide. The flower heads are rounded, composed entirely of disc flowers, and appear in summer. Plants need hard pruning after flowering to maintain shape. Useful for the border or edging.
Height: 1-21 H x 2' W
Foliage Color: Gray-green
Light: Full sun
Soil: Light, sandy, dry, well-drained
Hardiness: Zones 6-8
Japanese Spurge (Pachysandra terminalis)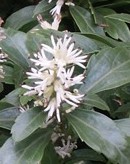 There are few ground covers in most of the US more ubiquitous than this native of Japan. It is a very popular ground cover especially under trees where water, nutrients, and light are in short supply. The dark evergreen leaves are one to three inches long and are carried in whorls at the end of the stems. Small, creamy-white flowers are produced at the top of the stems in late spring. The dark green varieties are very attractive but white variegated cultivars are available.
Height: 9-12" c 18" W
Foliage Color: Dark green
Light: Partial to full shade
Soil: Average, moist, well-drained but tolerates less
Hardiness: Zones 4-9