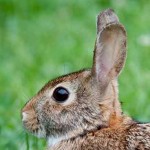 Rabbits can devastate a garden as they eat their way through the summer. No mater how much you like to see the fury darlings hopping across the grass and darting into the beds, the damage they can do can be sobering. There is no sure way to prevent rabbit damage but avoiding plants that rabbits love and selecting ones that are known to be unappealing is a good way to start. Here are seven annuals that are commonly found in garden centers, easy to grow, long blooming and are not attractive to the average rabbit. All like full sun, moderate moisture, and well-drained soil.
Flossflower (Ageratum houstonianum)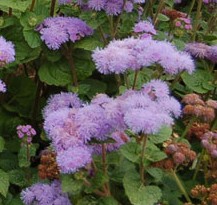 Native to the West Indies and Mexico, this popular bedding plant has heart shaped leaves with wavy margins and lavender blue flower heads. The heads are made up of five to fifteen tubular flowers densely packed together. Many cultivars are available that vary in height and flower color.
Flower Color: Various shades of blue to lavender, white, pink, and bicolor
Height: 4-15" depending on cultivar
Bachelor Button (Centaurea cyanus)

Also known as cornflower, this European native is beautiful in the garden but also in the vase and dries well. It has lanceolate leaves carried on slender stems and double blue flower heads 1 ½ to 2 inches wide. It is best planted en mass and often reseeds so can be enjoyed for years once well established. Cultivars are available varying in height, as well as size and color of flower heads.
Flower Color: Blue, white, pink, red, and lavender
Height: 1-3' depending on cultivar
Spider Flower (Cleome hassleriana)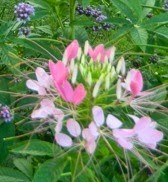 This old fashioned plant originally from South America, boasts long stamens in flowers carried on long stems giving the plant a spidery look. The leaves are palmately divided into five to seven leaflets and at the base of the leaf stem is a sharp spine that can be painful to careless hands. Plants tend to self seed but decline towards the end of the summer in warm climates. Several good cultivars are available that vary is height and flower color.
Flower Color: Pink, white, rose, lavender, bicolor
Height: 1 ½ -5' depending on cultivar
Marigold (Tagetes erecta, Tagetes patula)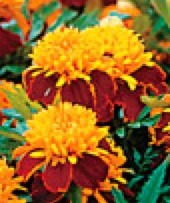 Both tall African marigolds (T. erecta) and shorter French marigolds (T. patula) are scorned by rabbits perhaps because of the aroma of their foliage. The many cultivars offer flowers in a wide assortment colors from yellow to orange. The densely packed flower head size varies from one to four inches across and the foliage is pinnately compound and somewhat lacy. French marigold offer more flower color, and form diversity than African with both single and double forms as well as red accents in some.
Flower Color: Yellows and oranges, some French marigolds with red
Height: African 1-4", French 6-12"
Flowering Tobacco (Nicotiana alata)

The sticky stems of this South American native carry leaves up to twelve inches long and nodding starry flowers with long tube and a wonderful fragrance in the evening. Flowers wilt in hot sun, close in the evening and under cloudy skies, and plants tend to fall over in wind or rain but the wonderful scent is enough to make them popular to gardeners (rather than rabbits).
Flower Color: White, pink, red, yellow green
Height: 3-5'
Scarlet Sage (Salvia splendens)


A native of Brazil, this tender perennial is grown as an annual. Its bright vivid red tubed flowers 1-2" long are carried in dense terminal racemes and are complemented by dark green 3" long leaves that are oval with serrated margins. Numerous cultivars are available that vary in color and height. The species can grow over 20 feet height and is never seen in gardens.
Flower Color: Red, rose, pink, white, purple, orange, and bicolors
Height: Cultivars vary in height from 6 to 24"

Zinnia (Zinnia elegans)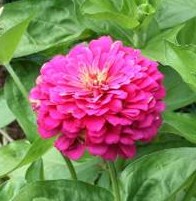 An old garden favorite in the US, the common zinnia is a native of Mexico and is popular because it is easy to grow from seed and provides lots of flowers for the vase by mid summer. The ovalto lanceolate leaves are up to five inches long, are hairy and are carried on hairy stems. The numerous cultivars provide single, semi-double, and double forms, many colors, and many heights. May need afternoon shade in the South. Buy cultivars that are disease resistant if fungal diseases are a problem and/or space plants far apart to reduce infection.
Flower Color: White, green, yellow, orange, red, pink lavender
Height: 6"-4'
.