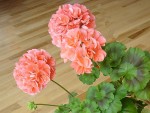 Some of our most useful plants in the summer garden are tender perennials. Many of them provide abundant color for a long period of time but unfortunately they die when cold weather comes. Examples are impatiens, coleus, petunia, and the common geranium (Pelargonium). If they die after one season, you ask, how can they be considered a perennial? A perennial is supposed to come back year after year; annuals die after one season, and biennials die after completing their life cycle in two years or seasons. So, what is a tender perennial?
The key to understanding tender perennials is the word tender. In a botanical context the tender means that the plant is sensitive to cold temperatures. A tender perennial will live year after year in warm climates but will die in a cold climate. Notice that no specific temperature has been mentioned; that is because the temperature can vary. The common geranium grows year round in my Southern California yard, but dies in the winter in North Carolina, so for me in North Carolina it is a tender perennial. Lantana is a tender perennial in the Piedmont of North Carolina but is perennial on coastal North Carolina. In other words, the word 'tender" tells you that in some areas it will not live through the cold but would do so in warmer temperatures. You would have to look up the hardiness of the plant to know where or where not a plant would be truly perennial. Check the tags when you buy your plants; hardiness zones or minimum temperature will usually be given. Sometimes the tag will say "treat as an annual" and this usually means it is a tender perennial.
How is this information significant? Tender perennials can be brought indoors in areas where winters are too cold for them. Geraniums, coleus, impatiens, and wax begonia winter well indoors and can be put back outside when temperatures warm up. They make nice container plants so bringing them indoors can be a plus. You can save money and enjoy winter blooms at the same time and be ready to go with mature plants in the spring,
Some tender perennials have bulbs or bulb like structures that can be lifted, stored for the winter, and then replanted. Gladiolia, caladium, tuberous begonia, calla lily, and dahlia are examples. They take a little extra work, but they are worth the effort.