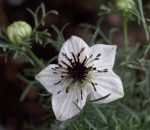 Native to parts of Asia, this annual herb is also known as black cumin, black caraway, fennel flower, nutmeg flower, and Roman coriander.    The plants  grow 12-18″ tall from a tap root and have branched stems carrying finely divided, linear leaves. The delicate flowers are about an inch across and have five to ten blue or white petals. The fruits are large, inflated,  and contain numerous of black triangular seeds.   The seeds have a bitter taste and are used in Asian and Middle Eastern cuisine.  They are also thought to have medicinal value in the treatment of a variety of ailments.  Photo Credit Wikipedia
Fitch has been cultivated since ancient times and seed has been found in several sites including Tutankhaun's tomb dating back three millennia and in a Hittite flask in Turkey dating back from the second mllennium BC.  The word fitches is sometimes used  to translate the Hebrew word ketsah although other plant names such as spelt, are also used.  The passage Ezekiel 4.9 is especially disputed.
Isaiah 28 (KJV) Fitches are used in a parable to teach that all knowledge ultimately comes from God.
25. "When he [the ploughman]hath made plain the face thereof, doth he not cast abroad the fitches, and scatter the cummin, and cast in the principal wheat and the appointed barley and the rie in their place?"
27." For the fitches are not threshed with a threshing instrument, neither is a cart wheel turned about upon the cummin; but the fitches are beaten out with a staff, and the cummin with a rod."
Ezekiel 4.9 God gives directions to Ezekiel for coping with famine during the 18 month siege of Jerusalem by the Babylonians.
"Take thou also unto thee wheat, and barley, and beans, and lentiles, and millet, and fitches, and put them in one vessel, and make thee bread thereof, according to the number of the days that thou shalt lie upon thy side, three hundred and ninety days shalt thou eat thereof."
The generic name, Nigella, is derived from the diminutive form of the Latin word niger meaning black, and refers to the color of the seeds. The specific name sativa means "that which is sown", i.e. "cultivated".
Fitches like full sun and average, medium dry, well-drained soil.  Plants are generally helathy and have no significance pests or diseases.  Propagation is by seed.