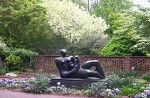 There is always something beautiful to see at the Atlanta Botanical Garden and this week is no exception. These gardens are so rich in plant material and are so well kept that my husband and I always fit in a visit there when we go to Atlanta and are never disappointed. Every week new plants come into bloom while others decline, fade and die but here is sampling of what the garden has to offer.
The walled garden just inside the entryway has several beautiful vignettes. A pool complete with statue is home to Arching Tongue iris (Iris x 'Bright Inspiration') and is surrounded by a stately clump of Royal Fern (Osmunda regalis var. spectabilis).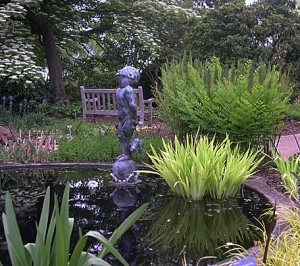 Just behind the pool are some very unusual and exotic-looking Japanese cobra lilies (Arisaema sikokianum) with their upswept chocolate-colored hood lined with milky white.
Over to one side is a large clump of yellow columbine, (Aquilegia 'Swallowtail') with its long, long, straight spurs under the branches of a Prague verburnum (Viburnum x pragense).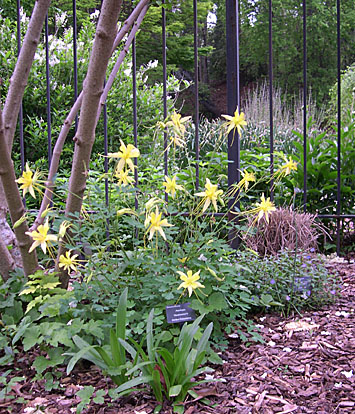 Over to one side of columbine is a burgundy oxalis (Oxalis regnellii 'Triangularis') with its delicate white flowers, and a clump of luscious orange German iris (Iris Germanica 'China Dragon') .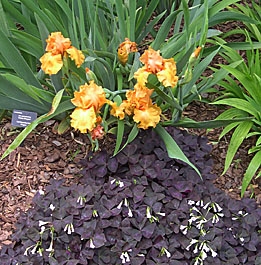 In the Rose Garden, the roses had begun to bloom and the climber Zephirine Drouhin, a Bourbon rose, was set off by the chartreuse flowers of Mediterranean Spurge (Euphorbia characias).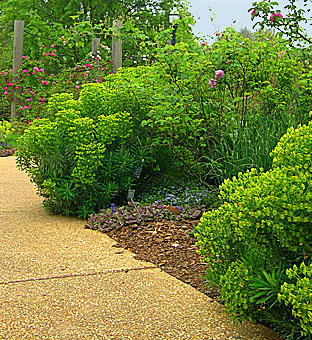 In the perennial garden, Blue Star Flower (Amsonia tabernaemontana 'Montana') made a pretty companion to purple Lily Tulips in the Perennial Garden.
The new growth on Japanese Plum Yew (Cephalotaxus harringtonia) and a Japanese maple brightened a bed in a section of the Conifer Garden.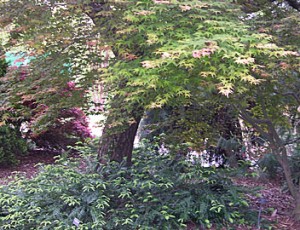 Nearby in the Rock Garden, the crepe paper like flowers of White Rock Rose (Cistus hybridus ) stood out against the red foliage of the neighboring Japanese red maple.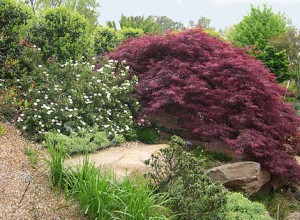 The two different kinds pitcher plants in the Bog Garden were sporting their flowers and were about to put forth their new foliage in the shape of pitchers.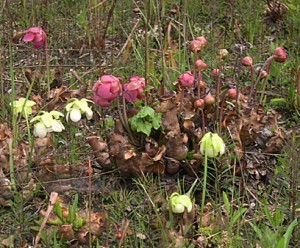 Several posts could be written on the containers at the garden but this grouping caught my eye. The pots of various sizes and shapes contained many different plants including various colored pansies, Dianthus, Wallflower, Dusty Miller, parsley, brown sedge, 'Gold Thread' Chaemaecyparis, long needle pine, juniper, kale, variegated Euonymus, and Mediterranean Spurge. The pots were arranged around golden trumpet daffodils under crepe myrtles. It was a spectacular arrangement!
Huge sculptures by Henry Moore were installed in strategic places like this area leading into the Aquatic Garden. Others were still in their crates waiting for their perfect place in the gardens. Ah…I will have to return soon to see the whole exhibit!