There are many shades of red from crimson to scarlet and they all can be used effectively in the garden. Combine dark burgundy with pink or light yellow for a pleasant harmony, or bright red with cool blues for contrast and to tone down the red. Pair red with purple or put a dash of red with a plant bearing pink flowers and gray foliage and you have memorable combinations. Red is a hot color and adds energy to the garden so is usually used sparingly but is striking when used well.
Red blooming perennials for the rock garden are scarce but here are five that will add spark to the scene.

Pasque Flower (Pulsatilla vulgaris var. rubra)

Large furry buds open to goblet- shaped flowers before the foliage has emerged in early spring and are replaced by feathery seed heads. The leaves are basal and covered with silky hairs.
Bloom Time: Early spring
Size: 9-12" H X 12" W
Light: Full sun to part shade
Soil: Average, reasonably well-drained, tolerates limey soil
Hardiness: Zones 5-8

False Rock Cress (Aubrieta deltoids)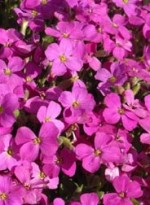 Clusters of red to magenta flowers are held above sprawling or trailing leafy evergreen stems in spring. 'Royal Red' and 'Vindictive' are red cultivars but blue, white, and purple cultivars are also available.
Bloom Time: Spring
Size: 6-8" H x 24" W
Light: Sun to part shade; afternoon shade in South
Soil: Average, well-drained, prefers but does not require limey soil
Hardiness: Zones 4-8

Rockrose (Helianthemum nummularium)

Double or single flowers cover the low growing subshrub with gray-green leaves. The flowers are 1-2" across and carried in loose 4-12 flowered clusters. There are several good cultivars including 'Cerise Queen' (double red), 'Fireball' (double deep red), and 'Firedragon' (coppery-red).
Bloom Time: Summer
Size:1-2' H x 2' W
Light:Full sun in North, part shade in South
Soil:Average, well-drained
Hardiness:Zones 5-7

Two-Row Stone Crop (Sedum spurium)

For a tough, easy to grow rock garden plant that can tolerate some heat and humidity, Two-Row stone crop is a good choice. Numerous small flowers cover the bright green foliage with reddish margins.  'Coccineum' has scarlet flowers. 'Dragon's Blood' is the most popular cultivar with dark red starry flowers and foliage that has a purplish bronze tinge. 'Red Carpet' had red flowers and bronze foliage and is 3-4" tall
Bloom Time: Summer
Size: 2-6" H x 18" W
Light: Full sun
Soil: Average, well-drained
Hardiness: Zones 3-8

Moss Phlox (Phlox sublata)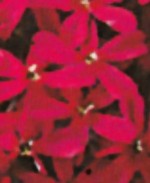 Masses of flowers cover a mat of evergreen foliage in early spring. The evergreen leaves are stiff and prickly. Many cultivars are available including red flowered ones such as 'Crimson Beauty' and 'Scarlet Flame'.
Bloom Time: Early Spring
Size: 6-9" H x 12" W
Light: Full sun to partial shade
Soil: Lean, well-drained (but not drought tolerant), neutral to alkaline
Hardiness: Zones 2-9
All the red flowered perennials described above need well-drained soil. By using all of them you can have red flowers blooming in the rock garden from early spring to summer. If you live in a warm humid area moss phlox and two row stonecrop are probably the most likely to do well and will give you weeks of bloom from spring to summer.