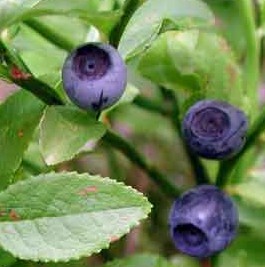 Bilberry , also called common bilberry or blue whortleberry, is a deciduous shrub with many branches. It is native to Europe including England, northern Asia, Greenland, Western Canada, and the Western United States where it grows in woodlands and shrubby habitats with infertile, acidic soil. Bilberry is a close relative of the American blueberry (Vaccinium cyanococcus) but can be distinguished by the dark red flesh of its solitary berries and smaller bush size. The bush grows eight inches tall by twelve inches wide and produces medium sized, ovate to lanceolate light green leaves with toothed edges. The small pink flowers appear in spring and are followed by blue edible berries in summer. Plants are hardy in USDA zones 3-7 and like part sun to shade and light, moist, well-drained acid soil.
In Merry Wives of Windsor (act v, sc. 5, 48) Pistol disguised as Hobgloblin enters the park with Mistress Quickly, Anne Page and others disguised as Faires and says;
Elves, list your names; silence, you airy toys.
Cricket, to Windsor chimneys shalt thou leap:
Where fires thou find'st unraked and hearths unswept,
There pinch the maids as blue as bilberry:
Our radiant queen hates sluts and sluttery.
Bilberry has been used for culinary and medicinal purposes for many years. The berries make excellent jams, jellies, sauces, pies, muffins, and similar foods but because bilberry is difficult to grow the berries are collected from the wild. The berries do not transport well so availability of fresh produce has always been local and seasonal. The leaves have been used for a variety of ailments for over 1000 years including diabetes, retinal problems, high blood pressure, and diarrhea but modern research has not confirmed its effectiveness.