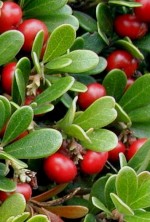 Bearberry is a fine textured evergreen ground cover that is native to northern parts of Europe, Asia and North America. The leaves are simple and dark green, sometimes taking on a bronze or reddish tinge by fall. The plants reach grow up to 12" tall and slowly form dense attractive mats. In spring, bearberry features tiny, dropping, bell-shaped white to pink flowers that are followed by bright red berries in late summer. It thrives in poor sandy soil and is particularly useful at the beach because it tolerates salt and drought. Especially nice cascading down a wall. Bearberry is difficult to establish and prefers cool climates. Both the common and botanical name refer to the fact that bears like to eat the berries but other wildlife like them too. Leaves and berries are used for Christmas decorations.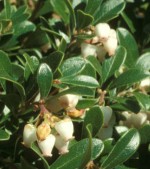 Type: Evergreen groundcover
Outstanding Feature: Red berries from late summer into fall; salt and drought tolerance
Form: Low growing dense mat
Growth Rate: Slow
Bloom: Tiny white to pink bell-shaped flowers are produced in racemes in spring.
Size: 6-12" H x 15'
Light: Full sun; tolerates some shade
Soil: Infertile, sandy, well-drained, slightly acidic
Hardiness: Zones 2-7
Care: Low maintenance; no need to prune
Pests and Diseases: Generally disease resistant but may be susceptible to mildew, rust, leaf spot and leaf gall.
Propagation: Stem cuttings; seed (needs stratification and scarification)
Outstanding Selections:
'Massachusetts' (more disease resistant with smaller leaves than species; flowers and fruits well)
'Point Reyes' (heat and drought tolerant)
'Vancouver Jade' (outstanding vigor, larger leaves than species).