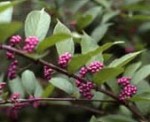 This medium sized deciduous shrub rightfully bears the name "Beautyberry" since its berries are truly beautiful! They are a gorgeous color of purple and are born in large clusters in the axils of the leaves on the slender, arching stem of this cascading bush. They appear in the fall about the time them leaves turn yellow to purplish or pinkish lavender and make such a fabulous sight that you have to rush out and enjoy them before the birds devour them. The long stems bearing the berries are a unique addition to autumn arrangements.
Type: Deciduous multistemmed shrub.
Outstanding Feature: Purple berries in fall; autumn coloration.
Form: Branches grow upright and then arch over forming a rounded bush.
Growth Rate: Rapid.
Bloom: Inconspicuous pale pink flowers produced in clusters 1-1½" wide in summer.
Size: 4-6'H x 4-6'W.
Light: Full sun-part sun but full sun will develop the best autumn coloration.
Soil: Prefers moist, well drained soil but tolerates less.
Fertilizer: Fertilizer may stimulate vegetative growth at the expense of flowers and fruit.
Hardiness: Zones 5-8.
Care: Prune regularly to keep it tidy.
Pests and Diseases: None of importance.
Propagation: Cuttings.
Comments: Useful as hedge, group or mass plantings, but keep in mind that the plant is not interesting until fall. Berries are produced on new growth so if the old growth dies down in the winter, take heart, new growth will appear in spring and berries will follow in time.