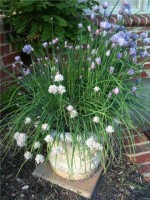 Chives are one of those herbs that have a lot going for them and I would grow them even if I didn't like them in my baked potato. I have a large pot of them growing outside my kitchen door that I use for cooking but enjoy them most when they bloom in spring. I use the flowers as a garnish, in salads, as well as in arrangements and sometimes I even dry them for use in everlasting arrangements. Just before the first frost I dig up a clump and bring it inside to sit in a sunny window in my kitchen so I can keep harvesting the leaves for cooking. The French consider chives one of the fines herbes along with tarragon, chervil and/or parsley and cooks use them to enhance almost any food except sweets. The (mild) onion flavor, however, is not to the liking of my cats and they leave the pot alone. If you like the look of the fine foliage, consider growing chives as an edging.
Type: Perennial bulb.
Bloom: Pink or lavender ball-like blossoms in spring.
Leaves: Gray-green, very slender, cylindrical, and hollow.
Size: 12" H x 8-12" W.
Light: Prefers full sun but tolerates part shade.
Soil: Organically rich, moist, well drained.
Fertilizer: Apply a mild organic fertilizer like bloodmeal twice during the growing season if necessary.
Hardiness: Zones 3-8.
Care: Clumps should be divided every 3 years to ensure flowering. Clumps brought indoors for the winter need a cold period of a couple of months to produce new leaves in spring so leave part of your clump for next season's crop
Pests and Diseases: None; in fact, chives may act as an insect repellent in some cases.
Propagation: Division; seed.