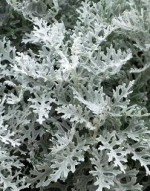 One of the most useful plants with silvery white foliage is Senecio cineraria. I use the Latin name because there are many plants known as Dusty Miller, none of them as easy to find and grow as this one. A native of the Mediterranean area it likes warm dry temperatures and a dry climate but it also does very well in the heat and humidity of central North Carolina. It is a good container plant but is most often seen as a edging plant and, in fact, has been over used at times. The silver-gray woolly leaves are lobed or deeply incised to as to give the lacy appearance that sets off the appearance of other annuals to advantage. Considered a subshrub, it is usually grown as an annual in cool areas but often returns in my zone 7 garden. When it does so, it grows up to 2' tall produces mustard-yellow flowers that add nothing to its overall attractiveness and I usually cut them off. I buy these in six-packs at big box stores early in the season; they sell out quickly and if I wait there are none to be found the rest of the growing season. It is just as useful as foliage in a vase arrangement as it is in the garden and at Christmas I like to combine the silver-gray foliage dried or alive in arrangements with red roses.
Type: Half-hardy perennial usually grown as annual
Bloom: Mustard yellow flowers are borne in clusters in summer.
Foliage: Lobed or deep incised silver-gray leaves.
Size: 1-2' H x 1' W
Light: Full sun to partial shade (leaves become greenish in too much shade)
Soil: Medium to low fertility,  sandy, well-drained; fairly drought tolerant once established
Hardiness: Zones 8-10, 7 with protection; usually grown as annual
Care: Low maintenance
Pests and Diseases: None of significance
Propagation: Seed or terminal cuttings
Companion plants: Plants with intensely colored flowers such as portulaca, red or purple salvia, marigolds, pansies, magenta or red roses.
Outstanding Selections:
'Cirrus' (8-10" tall)
'Silver Dust' (deeply incised, 15" tall)