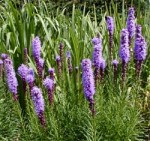 Gayfeather is one tough plant! It can take heat, cold, drought, or poor soil and still come through with its tall fuzzy purple flower spikes. The plant first makes its appearance in spring as a tuft of grass-like leaves. Later, a leafy spike appears bearing the flower buds. It provides a strong vertical accent in the garden (or in a vase arrangement), and looks great in drifts or small clumps. The species is a North American wild flower native to a large part of the U.S. so it is especially pleasing in a meadow garden.
Type: Herbaceous perennial.
Bloom: Lavender purple flowers are borne on tall spikes in mid summer. The buds open at the top of the spike first and continue opening downward.
Size: 18-30" H x 24"W.
Light: Full sun.
Soil: Prefers moist, well-drained, average soil but tolerates much less.
Hardiness: Zones 3-9.
Care: Cut flowering spikes to the basal tuft of leaves when blooming has finished in order to freshen up the garden.
Pests and Diseases: Generally pest free but can be attacked by powdery mildew in late season when humidity and heat are high especially if stressed by drought.
Propagation: Dig up corms in the fall and divide with a sharp knife to increase the number of plants, but division not necessary. Can be grown from seed but may not come true.
Companion plants: Goldenrod (Solidago spp.), Black eyed Susan (Rudbeckia fulgida 'Goldsturm), coneflower (Echinacea purpurea), Boltonia asteroids, daylilies (Hemerocallis hybrids) and various grasses such as feather reed grass (Calamagostis x acutiflora 'Karl Foerster') or fountain grass (Pennisetum sp.).
Comments: Attracts bees, butterflies and birds. Great cut flower.