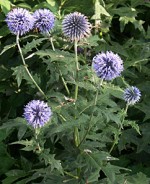 I am always happy to see the round blue flower heads of glove thistle. They are unlike any other plant in my garden and add a uniqueness to my border that holds my interest through their whole bloom time. The foliage has equal appeal. Large, spiny edged leaves have whitish downy undersides and form a rosette from which the flowering stalks arise. The whole plant looks prickly, hence the common name 'thistle', and add a very different texture to the garden than most other plants. The flowers attract bees and butterflies, are spectacular in fresh arrangements, and can be dried if picked before they reach their full color.
Type: Herbaceous perennial.
Bloom: Two inch wide steel blue globose flowers bloom in mid-summer or 6-8 weeks.
Size: 48-60"H x 24-36" W.
Light: Full sun.
Soil: Average, well drained , neutral to alkaline soil. Drought tolerant when established.
Fertilizer: Moderate as over fertilization reduces the blooming season.
Hardiness: Zones 4-9.
Care: Very little needed. The foliage gets ratty after bloom and you may want to cut it back to tidy up the garden.
Pests and Diseases: None of importance.
Propagation: Plants will reseed but not enough to be invasive. Basal plantlets may be separated from the base of the plant when the plants are at least 3 years old. Two to three inch root cuttings may be taken in spring.
Companion plants: White garden phlox (Phlox paniculata) 'David', lemon daylilies such as 'Hyperion', "Moonshine yarrow, 'Moonbeam' coreopsis, pink roses such as 'The Fairy' and coneflower (Echinacea purpurea 'Magnus' and other pink cultivars).
Comments: Best used in drifts rather than as specimen plants.