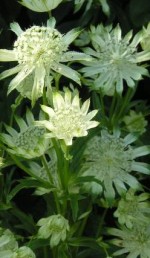 Popular in Britain but little known here, masterwort is a very fine garden plant for cool climates and an excellent cut flower with a long vase life of 10 to 14 days. It thrivse in moist shady areas with soils rich in organic matter. The flower heads are actually a cluster of tiny white to pink flowers surrounded by a collar of colored bracts that set the flowers off to advantage. Cool night temperatures below 70 degrees are necessary for good growth and flower production.
Type: Herbaceous perennial
Bloom: Small white or pink flowers are borne late spring to early summer in dense umbels surrounded by colored bracts; flower heads are 2-3" across, with good bloom time and vase life.
Foliage: Basal toothed leaves and have 3-5 lobes; leaves on stem have wide petiole> which clasp the stem.
Size: 2-3' H x 1.5' W
Light: Part shade
Soil: Organically rich, moist, well-drained; must never dry out
Hardiness: Zones 4-7
Care: Deadhead to prevent unwanted reseeding (may not be true to color)
Pests and Diseases: None of importance
Propagation: Division of roots in autumn or early spring; spreads by runners to form good sized clumps.
Companion plants: Astilbe, hosta, fringed bleeding heart, ferns
Outstanding Selections:
'Shaggy' (extra long collar of pink bracts)
'Sunningdale Variegated' (Light green leaves splashed with yellow and cream)