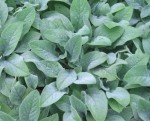 Is there any plant in the garden that is more fun to stroke than Lamb's Ear? Not for me. I grow three different kinds and love the look and feel of all of them. Certainly there is no better plant to teach a young child the wonder of plants. I must admit that I am partial to silver or gray plants so I would probably grow Lamb's Ear even if it didn't have soft fuzz all over the leaves. I find the color and the grow habit very useful in my formal garden and have it prominently place at the front of the border and even use it as the edging plant in the center parterres. I have to admit that I have to hack it back every week to keep it from swallowing up the other plants near it and the head garden whacks off more every week when he mows. Yes, it rots by August, but I'm not my best in the heat and humidity either, so I remove the dead leaves and let the sun in knowing that new growth will quickly restore the beautiful look as soon as the weather permits.
Type: Herbaceous perennial.
Bloom: Inconspicuous small pink flowers bloom on 12-18" stems in spring.
Size: 6" H x 9"-18" W (spreads very quickly).
Light: Full sun with afternoon shade in the South.
Soil: Average, dry to medium, well-drained soil; drought tolerant once established.
Fertilizer: Fertilize in spring with general fertilizer.
Hardiness: Zones 4-8.
Care: Remove dead foliage as it appears both in late summer and the end of winter.
Pests and Diseases: Leaves rot in hot humid weather; slugs and earwigs may eat holes in the leaves but can be controlled with baits.
Propagation: Divide in spring; basal cuttings in spring.
Companion plants: Rose campion (Lychnis coronaria), pink, red, or orange roses or annuals such as portulaca; Platycodon gradiflora 'Sentimental Blue'; white variegated lirope, Adam's needle (Yucca filamentosa). The Adam's needle is sharp and pointy and is an interesting contrast to the softness of the Lamb's Ear.