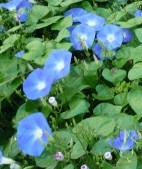 The lush green growth and profuse flowers of morning glories recommend them for a prominent spot in the garden. They will grow on a trellis or arbor by twinning their hairy stems as they go upward. Large buds open in the morning into trumpet shaped flowers in white, or shades of blue or pink. By noon the flowers begin to fade but the process begins again the each day and continues until frost. The leaves are heart shaped make an attractive backdrop for the showy flowers. Heirloom varieties are available and make great plants for a cottage garden. True, morning glories reseed and can become a noxious weed in some areas but there are so many beautiful cultivars that they are worth a place in the garden. And besides, hummingbirds love them.
Type: Tender perennial vine grown as annual
Bloom: Large trumpet-shaped flowers in white, pink, or blue open in morning from mid- to late-summer until frost.
Foliage: Lush, dark green, heart-shaped leaves
Size: 6-10' H x 1" W (if grown upward)
Light: Full sun
Soil: Average, moist, well-drained
Fertilizer: Too much fertilizer leads to lush foliage growth at the expense of flowers.
Care: Help vines find structures to grow upward
Pests and Diseases: None of significance
Propagation: Seed
Outstanding Selection:
'Heavenly Blue' (medium blue)
'Pearly Gates' (white)
'Magenta' (dark red).