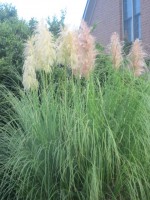 Some people love it, other people hate it; I think you feelings towards it all has to do with what is done with it. It can be a striking feature in a garden or lawn used as a specimen plant, can be used as a hedge, or as part of a back of the border planting, providing an architectural statement wherever it is planted. The show starts in August when the large magnificent plumes arise from the rather ordinary clump of tall grassy foliage but the plumes persist into winter adding a lot to the garden at a time when most other plants are dormant. The plumes can be blond or pink and show up especially well placed against a dark background or where they can be back lit. The blue-green/slivery-gray leaves are razor sharp so the plants should not be located on a walk or near a place where people are not likely to brush up against it. This is not a docile plant and can be invasive, so much so that it has been banned in some countries. Cut the plumes when first open and dry for use in arrangements.
Type: Perennial grass.
Bloom: Large (12" x 6') silky blond or pink panicles that turn fluffy as they mature are borne above the foliage August through September.
Size: 12' H x 6' W clumps.
Light: Full sun; some light shade in South.
Soil: Prefers fertile, well-drained loamy soil but tolerates less.
Hardiness: Zones 7-10.
Care: Cut back in March to 2'.
Pests and Diseases: None of significance.
Propagation: Seeds (short viability) or division in spring or fall.
Companion plants: Best used as a specimen, in a group, or against a dark background.
Outstanding Selections:
C. selloana 'Pumila' (dwarf; 3-6' H)
'Silver Stripe (white variegated)
'Gold Band' (yellow variegated)