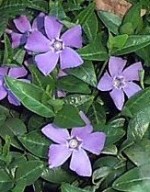 This is one of those plants you either hate or love and I love it but the head gardener does not. The evergreen foliage, bright blue flowers in spring, and its tendency to fill in open spaces endear it to me. But it's that last characteristic, tendency to fill in open spaces, that makes it a vile plant to many gardeners. It loves moist shady areas and will produce non-flowering stems that root at all the nodes so that it quickly spreads. It has never hopped into the lawn as some ground covers do, and has been very good about controlling erosion on a vulnerable bank. Its cascading nature is particularly attractive in window boxes and other containers.
Type: Perennial vine
Bloom: Bright blue flowers .75-1" across are born in spring; cultivars and varieties may be white or purple; may bloom sporadically during the summer.
Foliage: Dark green, smooth, glossy, 1 ½" long, leaves are evergreen; may be variegated.
Size: 6-12" H, spreading
Light: Part shade; may yellow in full sun
Soil: Fertile, moist, well-drained
Hardiness: Zones 4-9
Care: Low maintenance
Pests and Diseases: Susceptible to blight, canker, dieback and leaf spot
Propagation: Division; terminal cuttings of non-flowering stems.
Companion Plants: Coral bells, ferns, hosta, impatients, Solomon's Seal
Outstanding Selections:
'Jekyll's White' (white, more floriferous than var. alba)
var. alboplena (double white flowers)
var. atropurpurea (large, dark purple flowers)
'Sterling silver' dark blue flowers, leaves with white margins)
'Variegata' (yellow variegated leaves, pale blue flowers)