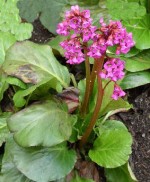 The first time I saw this plant was at the gardens of Hestercome in England. The grand dame of perennial border making, Gertrude Jekyle, had designed the garden with Edwin Lutens and I was taken by both the design and choice of plant material. Jekyle, known for her bold use of plant materials had used bergenia extensively as an edging with lavender. The large shiny, leathery leaves of the bergenia were striking growing in full sun, but that was England. Here in the North Carolina piedmont, I have to provide it with considerable shade or the leaves become tinged with brown. I grow it for the foliage but it does have attractive clusters of flowers that many people treasure especially since they come early in the gardening season. The foliage is as attractive in flower arrangements as in the garden, plus, as fall arrives the leaves turn deep burgundy and persist into the winter until they are damaged by the weather. I have used bergenia on the edge of a border and as a ground cover equally well. It would do well any place hosta thrive and in fact tolerate more dryness than hostas. The rather unattractive common name, pigsqueak, comes from the sound made when the thumb and forefinger and rubbed across a leaf.  The genus name, Bergenia, honors Karl August von Bergen, 18th century professor at Frankfurt an der Oder. The specific epithet, cordifolia, comes from the Latin words cor meaning heart, and folia, meaning leaf and refers to the shape of the leaves.
Type: Herbaceous perennial.
Bloom: Pink flowers in early spring.
Size: 12-18" H x 12-18" W.
Light: Sun in North; part shade in South.
Soil: Moderately heavy, moist or dry but prefers moist.
Hardiness: Zones 3-8
Care: Low maintenance.
Pests and Diseases: None of significance.
Propagation: Spreads slowly by rhizomes; division in spring or fall.
Companion plants: Spotted dead nettle (Lamium maculatum), Siberian bugloss (Brunnera macrophylla), ferns, fringed bleeding heart (Dicentra exima).
Outstanding Selections: 'Perfecta' (rosy red flowers held relatively high above the foliage).