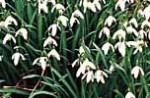 It's hard to believe these dainty plants are tough and hardy when they emerge in late winter to early spring, sometimes poking through the snow. The delicate nodding flowers are white accented by emerald green and are borne singly on leafless scapes with 2-3 linear basal leaves. The plants are small but naturalize easily and can form large drifts that look spectacular when in bloom. They look equally well in rock gardens, at the front of the border, or under deciduous trees. The leaves die away quickly after the flowers fade so later flowering bulbs can be planted with them to great effect.
Type: Bulb.
Bloom: Milky white 1" long flowers appear in late winter to early spring.
Size: 6-10" H x 2-3" W
Light: Full sun to dappled shade. (Foliage dies back before deciduous trees leaf out.)
Soil: Moist, humus rich soil.
Hardiness: Thrive in zones 4-7 (short lived in areas hotter than zone 7).
Care: Plant 2-3" deep and 2-3" apart in fall. Allow foliage to die naturally after flowers bloom.
Pests and Diseases: None of importance.
Propagation: Self seeds; bulb offsets as soon as flowers fade.
Companion plants: Winter aconites (Eranthus hyemalis), Glory-of-the-Snow (Chionodoxa forbesii), early corcuses.
Outstanding Selections: 'Flore Pleno' has double flowers and is 4" tall.
Comments: Deer resistant.