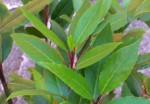 We recently lost our bay tree. It had been part of our garden for over 20 years and we had brought it from Maryland to North Carolina when we moved. We grew it in a large pot and hauled it indoors every winter because it was only hardy to zone 8. It did well all those years and then last spring did not come out of dormancy its same old self and died. Bay are difficult to propagate and are very slow growing so we had bought it as a small tree .  Over the years we had trimmed it to look like a lollipop and it gave a European touch to our herb garden were we moved it each spring so I could easily pluck leaves for use in stew or soups.  The tree was so pretty and the leaves looked so good in fresh or dried arrangements that it more than earned its keep.  It was a great little tree.
Type: Woody perennial evergreen herb.
Bloom: Clusters of small yellow flowers produced in spring followed by shiny black or purple berries on female plants.
Foliage: Shiny, dark green, thick, leathery leaves with serrated wrinkled margin forming dense canopy.
Size: 5' (in pot)-60' H x3-10′ W.
Light: Sun to partial shade.
Soil: Moderately rich, well-drained; pH 6.2.
Hardiness: Zones 7-10.
Care: Do not overwater.
Pests and Diseases: Susceptible to scale, bay sucker (Trioza alacris), and mildew.
Propagation: Semi-hardwood cuttings from in fall; layering; seeds difficult to germinate.