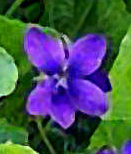 As a young girl I enjoyed picking wild violets and making them into tiny bouquets to be placed on neighbors' door on May Day. I would get up at the crack of dawn, prepare the tiny bouquets and place them on the doors before anyone else was up. They must have looked dreadful since they had no water source and would surely have wilted by the time anyone got up and out. Forty years later I came home from work and found a large bouquet of violets on the kitchen table, picked from our lawn by the head gardener. How very beautiful they were and how delighted I was.
Violets have been around since ancient times and both the Greek Herodotus and the Roman Pliny wrote about their medicinal qualitative. Violets used to be widely used in perfumes but is now used only for very high quality ones. They can be used in potpourris but the odor is not long lasting. A better use is as a garnish for chilled soups and punches. If you cook, violets can be added to salads, puddings, jellies and jams. Or flowers and leaves can be steeped in water and used in cupcakes, tea breads, puddings, and ices.
Commercial hybrids make especially nice garden plants with their large flowers and various colors. If they like their location than can become a bit rambunctious but add attractive clumps of leaves to the garden border even after their flowers die down.
Type: Herbaceous perennial.
Bloom: Solitary blue, purple, yellow, white, or pink flowers are borne April-May on slender stalks that arise above a tuft of foliage. The ½" wide, sweet scented flowers consist of 5 petals, the lower one formed into a hollow spur containing spurred anthers.
Foliage: Dark green oval, kidney shaped or heart shaped leaves.
Size: 4-6" H x 4-6" W.
Light: Full sun to mostly shade.
Soil: Humusy, moist but well drained.
Hardiness: Zones 5-8.
Care: Deadhead to prolong bloom; cut back in fall to improve spring bloom.
Pests and Diseases: Susceptible to red spider mites.
Propagation: Self sows and spread by means of stolons; seed or division.
Outstanding Selections: 'White Czar'