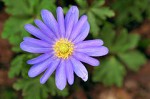 Colorful daisy-shaped flowers appear in early spring and can last a month, especially if in an area protected from the wind. They are undemanding and will naturalize easily by self-seed and tuberous rhizomes. They can bring early color to a rock garden, perennial border, wild garden or open woodland with equal success and are especially lovely when planted in large drifts. The flowers are complemented by deeply cut fern-like foliage that disappears gracefully after the flowers have faded.
Type: Bulb (actually a tuber).
Bloom: Pink, white, blue, violet daisy-like flowers in early spring.
Size: 6-12" H x 3-6" W (the species is smaller than cultivars).
Light: Full sun to part shade.
Soil: Moist, well drained.
Hardiness: Zones 5-8.
Care: Carefree.
Pests and Diseases: Leaf spot and rhizome rot may be problems.
Propagation: Division after the foliage matures.
Companion Plants: Early flowering deciduous trees and shrubs.
Outstanding Selections: 'White Splendor' (white with yellow centers), 'Blue Shades', 'Pink Splendor'.
Comments: When planting, soak tubers in warm water for at least 1 hour, overnight if possible, to facilitate rapid root growth.