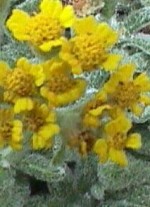 Wooly leaves set this Achillea apart from other plants and make it special. In spring, the dissected light leaves appear covered with long white hairs that give them their special charm. The plants grow rapidly over and around rocks and into crevices making a soft appealing ground cover. In early summer clusters of golden yellow flowers appear and continue for most of the summer where conditions are right. Wooly yarrow, like many hairy plants, does not tolerate hot humid conditions and are not suitable for areas in the Southeast. They survived and bloomed in my Zone 7 Annapolis, Maryland garden, but only bloomed in June and did not return the next year in North Carolina. Otherwise, wooly yarrow is easy to grow and will thrive in a sunny border or rock garden in lean well-drained soil.  Good for fresh or dried arrangements.
Type: Evergreen, herbaceous perennial
Bloom: Golden-yellow flowers are produced in corymbs up to 2" across in early summer
Foliage: Deeply cut, light green, aromatic leaves are 2" long and are covered with hairs to give a wooly appearance.
Size: 6-12"H x 18" W
Light: Full sun
Soil: Lean, well-drained
Hardiness: Zones 3-7
Care: Divide every 3-4 years
Pests and Diseases: None of significance
Propagation: Division, seed
Companion plants: Daylily, ornamental grasses, dwarf lavender, Santa Barbara daisy, dianthus.
Outstanding Selections:
var. aurea (golden yellow flowers on 3-8" stems)
'King Edward VIII' (pale yellow flowers on 10-12" stems)