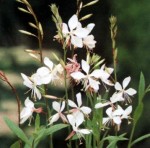 When the breeze blows the delicate flowers of white gaura flutter on their almost invisible stems and create a look of loveliness around then. Every plant in the garden looks better when planted with white guara's see through stems of flowers. But this plant with the delicate flowers is not delicate at all; as an American native it is very tough and can thrive in the heat and humidity of the South or in the searing heat of the southwest.
While it loves a site in full sun and with moist soil, it will perform well under much less desirable conditions. It requires very little care and will self sow if allowed to go to seed. And that's not all, it is lovely in arrangements.
Type: Herbaceous perennial.
Bloom: White moth-like flowers with a touch of pink bloom on long reddish stems all summer if deadheaded.
Size: 36-48" H x 24-36" W.
Light: Full sun but tolerates partial shade.
Soil: Average to poor, loose, evenly moist, well-drained soil.
Hardiness: Zones 5-10.
Care: Deadhead to prolong bloom season.
Pests and Diseases: None of importance.
Propagation: Taproot makes division difficult; best propagated from seed; self sows.
Companion plants: Pink or white garden phlox (Phlox paniculata), coneflower (Echinacea spp.), true lilies (Lilium sp), daylilies (Hemerocallis sp.), and blue salvias.