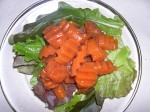 Interesting vegetable salads have always intrigued me and this carrot salad is one of my favorites. It is colorful, easy to make, delicious, uses ingredients you probably have on hand, and is always popular. You can make it ahead; in fact, it is better made ahead and allowed to chill in the refrigerator over night or more, up to 4 weeks for sure). Serves 6.
Ingredients:
2 lbs. carrots, peeled and sliced
1 medium green pepper, diced
2 medium onions, chopped
1 10 oz can tomato soup
1 cup sugar
2/3 cup wine vinegar
¼ cup vegetable oil
1 teaspoon mustard
1 teaspoon Worcestershire sauce
salt and pepper to taste
Directions:
1. Cook carrots in boiling salted water until barely tender; cool and drain.
2. Combine the remaining ingredients in a covered container and mix well.
3. Refrigerate overnight or longer.
This is delicious served with pork, chicken, or turkey.