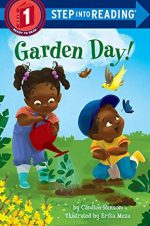 Garden Day! by Candice Ransom is part of the Step into Reading Series that aims to help children have a successful reading experience beginning in preschool. Written for children 4-6 years old, this book is in the 1st step of the series and is designed for children who know the alphabet and are eager to begin reading. The vocabulary is easy, the text is in big type, and rhyme and rhythm are used along with picture clues to encourage young readers to build a reading vocabulary and read eventually read on their own.
Garden Day! is the story of a brother and sister who plant peas in the garden when spring arrives. They get tools from the shed, pull up weeds as they prepare the soil and enjoy the rabbits and other wildlife as they pursue their gardening activities. As they plant their seeds they have to scare away a crow and then build a scarecrow. They water the garden, play with the hose, and grab Mommy before she accidentally steps in their garden. A family outing and playtime in a tire swing bring the book to a close.
The text is written with a staccato beat with simple rhymes, for example "Dig small holes/ Use the hoe./Let our peas have room to grow. The illustrations are composed of big, bold figures and objects in bright colors and fill two pages. This is a snappy little book that provides both a good introduction to vegetable gardening and the opportunity to gain reading skills.
To buy Garden Day! from Amazon.com click here.