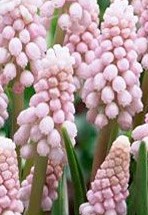 When the cherry trees begin to bloom in the spring with their pink cotton candy colored flowers the garden is bathed in soft light that seems to go perfectly with the new light green foliage that begins to cover the limbs of shrubs and trees. Pink brings a calming effect and a dreamy romantic quality to the garden, perfect for spring. Why not fill the garden with pink blooming spring bulbs to enjoy until summer rolls in with its bright colored annuals and perennials?
Here are six favorite spring blooming bulbs that will make the garden a very special place as the season changes: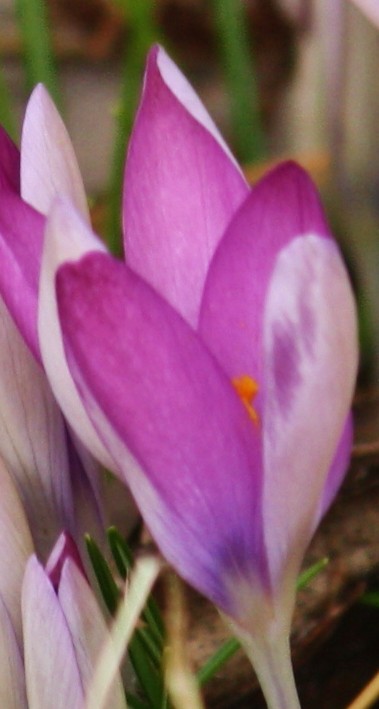 Crocus tommasinianus roseus This heirloom species crocus blooms two weeks earlier than the large flowered kind. The rose colored flowers have a violet sheen, a miniature white heart and yellow stamens.
Height: 4"
Bloom Time: Very early spring
Hardiness: Zones 4-8


Scilla bifolia rosea Also know as wood squill, this deer and rodent-resistant heirloom bulb dating to circa 1601 has light pink, star-shaped florets that nod gracefully from slender stems. A good naturalizer, this Scilla grows well and looks particularly pretty in wooded areas with filtered sunlight.
Height: 4-5"
Bloom Time: Early spring
Hardiness: Zones 4-8


Tulip Albert Heijn This deep pink Emperor tulip has deep rose-pink flowers with a purple sheen and paler pink edges on the petals. Large attractive gray-green leaves complement the very large flowers.
Height: 14″
Bloom Time: Early to mid spring
Hardiness: Zones 3-8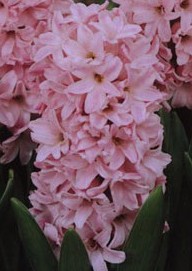 Hyacinth Fondant Combining a heady fragrance with soft pink coloring, this hyacinth has tightly packed florets with recurved petals and is also known as Pink Frosting.
Height: 10-12"
Bloom Time: Mid spring
Hardiness: Zones 4-8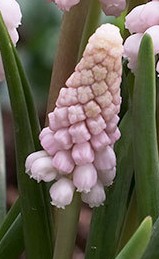 Pink Grape Hyacinth (Muscari Pink Sunrise) Long blooming and fragrant, this grape hyacinth has blush pink flowers densely clustered and sturdy stems. The flowers bloom for a long time and the plants naturalize well.
Height: 6"
Bloom Time: Mid to late spring
Hardiness Zones: 4-8

Spanish Bluebell (Hyacintroides Dainty Maid) Although the name suggests the flowers are blue, Dainty Maid produces deep purple-pink flowers bell-shaped flowers that hang from graceful stems. Undemanding, they will grow well in almost any soil and sunlight conditions but prefer some light shade.
Height: 12-15"
Bloom Time: Late spring
Hardiness Zones: 3-8
These six bulbs provide color all spring starting with the species as winter ends followed quickly by the wood squill and tulip Albert Heijn. Mid season color is provided by the hyacinth Fondant and later by the grape hyacinth Pink Sunrise and Hyacintroides Dainty Maid. Many other pink tulips are available but they bloom later in the season, have smaller flowers, and are taller. They may be exactly what you need; Albert Heijn was chosen here for its early bloom. Bulbs should be ordered in the summer and planted in the fall.