Bulbs always play a big role in the spring garden providing bright color to a gray landscape that has been resting for several months. Many bulbs that we grow for spring bloom are at home in the cottage garden too. Chosen with an eye toward the past, spring blooming bulbs can brighten up the cottage garden of today just as they did decades ago. The key to success is to pick varieties that are or look like the ones that would have been used in former years.
Here is a list of spring blooming bulbs that are suitable for a cottage garden. All are readily available through online and catalog sources.

Snowdrop (Galanthus nivalis)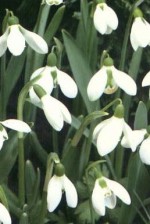 Early blooming, snowdrops bloom when snow is still a possibility, and by spring go dormant, leaving room for the growth of other plants. Both single and double forms are available. Deer and rabbits don't like them.
Height: 8-10"
Hardiness: Zones 3-8
Light: Partial sun
Soil: Well drained; tolerates some moist soil

Species Crocus (C. chrysanthus, C. sieberi, C. fulvus)
Blooming two weeks earlier than the big flowered crocus, Crocus vernus, species crocuses come in a variety of colors including orange, yellow, orange, lavender, mauve, white, and combinations of these.
Height: 4"
Hardiness: 4-7
Light: Sun but partial sun in South.
Soil: Gritty, well drained.

Winter Aconite (Eranthis hyemalis)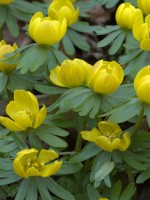 The frilly green leaves add to the charm of the bright yellow flowers especially when dusted with a coat of snow. Although they are hard to get growing in the beginning, once they are established they will spread by seed and offsets.
Height: 3-4"
Hardiness: Zones 3-7
Light: Shade with morning sun if possible
Soil: High in organi, well drained

Daffodils/Narcissus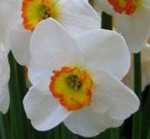 Avoid the thick stemmed, large flowered varieties as these more recent introductions and would not add the same charm to the garden as the smaller flowered varieties. 'Merlin' is an especially nice variety with its white petals and small yellow cup trimmed with orange-red. It is long lasting, sunproof, and fragrant.
Height: 5-18" depending on variety
Hardiness: Zones 3-7
Light: Full sun to part shade
Soil: High organic matter, moist, well drained.

Tulips (Tulipa hybrids)

Tulips were all the rage in Europe in the 18th century so many fancy ones are available for the cottage garden. Parrot tulips and the streaked varieties have been popular since the 17th century as shown in Dutch paintings of the period. Grow them among other plants and let them come back year after year; the flowers will be diminished in size but they will look just right in the milieu.
Height: 12-2"
Hardiness: Zones 3/4-7/8
Light: Full sun
Soil: Well drained.

Grape Hyacinth (Muscari armeniacum)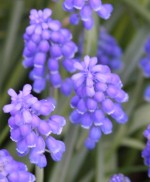 Grape hyacinths naturalize well and provide weeks of color with their small spikes of closely packed blue flowers. They will wander from the site of planting in the perfect cottage-garden way.
Height: 6-8"
Hardiness: Zones 4-8
Light: Sun or light shade
Soil: Avoid extremes of wet or dry soils; tolerant of most others.

Spanish Bluebells (Hyacinthoides hispanica)


Blooming in April or May, these beauties have been in gardens since 1601. They naturalize well and are deer and rodent resistant.
Height: 12-15"
Hardiness: Zones 3-8
Light: Sun
Soil: Moist, well drained

Snowflake (Leucojum aestivum)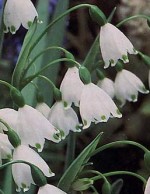 Don't let the name fool you; these bulbs do NOT bloom in the snow. Quite the contrary, they blooms with the late daffodils and early tulips. Snowflakes have been around since 1594 and are deer and rodent resistant. They are also more tolerant of moist soil than most other flowering bulbs.
Height: 12-15"
Hardiness: Zones 4-9
Light: Sun
Soil: Moist, well drained.
The early bloom of spring bulbs can get the garden off to a colorful start. Perennials and annuals will fill in with their colorful flowers as the bulbs go dormant, just as in other kinds of gardens, so plant them scattered throughout the garden and let their naturalizing tendencies do the rest.