Ornamental grasses are more and more popular as garden styles are changing and a natural look is developing. They have a lot to offer a gardener because they can play many different roles in the garden, look good over a long period of time, and are relatively pest free. Gardeners in cold regions like USDA zone 4 need not give up on growing handsome grasses because of low temperatures as there are many that do well even when temperatures drop to –25 F.
Here are five ornamental grasses that will do well in cold areas to zone 4.  All but one can also be grown in warm climates to zone 9.
Blue Fescue (Festuca cinerea aka F. ovina 'Glauca')


A native of Europe from Spain to the Caspian Sea and from Greece to north to Norway and into Russia, this clumping evergreen grass is variable in color but the most desirable ones are bright blue. The foliage is fine textured and the flowers showy to non-existent depending on the cultivar. In warm climates plants may go dormant in summer.
Height
: 4-to 18" depending on the cultivar
Light:
Soil:
Hardiness:
Blue Lyme Grass (Elymus arenarius 'Glaucus' aka Leymus arenarius 'Glaucus')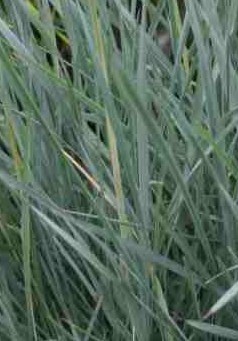 With metallic blue foliage this Eurasian native has been a popular garden plant for over 100 years. It tends to be invasive but is excellent in maritime locations and can be used as a dune stabilizer. Cutting back or mowing keeps the plants looking fresh.
Height
: 1-3' but arches over to be 1-2' tall
Light:
Soil
: Almost any soil but less invasive on dry or heavy clay soils.
Cotton Grass (Eriophorum latifolium)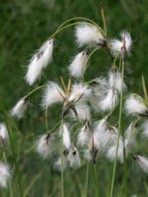 A native of Europe Asia, and North America, cotton grass adds a touch of whimsy to the garden with its showy cottony flower heads in spring. Excellent choice for wet areas.
Height
: 1-1 ½' tall; flower stalks 1-1 ½' above foliage
Light:
Soil:
Wet,moist (does not tolerate drought)
Hardiness:
'Freesey Form' Ribbon Grass (Phalaris arundinacea 'Freesey Form')

Both the foliage and flowers make this quick spreading grass a standout. The leaves are 6-8" long and have a broad white strip edged with green and tinged with pink. Showy greenish white to pale pink flowers appear in early summer, turn brown, and persist into winter. Good cut flower.
Height
: 1.5-3'; flower stalks 1-1.5 above foliage
Light
: Light shade, half day sun
Soil:
Hardiness:
Little Bluestem (Schiachyrium scoparium)

Forming upright clumps, this native deciduous grass has soft leaves 12 to 16" long, flower spikes in late summer and fluffy seed heads. At first he leaves are light green with a tinge of purple at the base but turn bronze to orange in the fall providing winter interest. Good cut flower.
Light:
Soil:
 Average-fertile, dry-medium moist
Hardiness