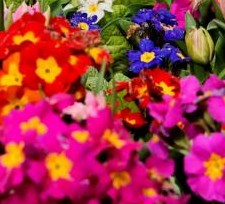 Growing primroses (Primula spp) is a great way to welcome spring. Their colorful flowers rising above their attractive rosettes of foliage brighten any place in the garden and are excellent companions for many other spring flowers. Most primroses are hardy to zone 5, some to zone 3. They vary in size and specific moisture requirements but all like part shade and moist soil sites, and must never dry out. The amount of moisture is critical for some primroses giving them the reputation of being temperamental and hard to grow. Hybridizers have done a lot with the various kinds of primroses produced more compact plants with larger flowers. Since the foliage tends to fade after blooming, primroses are best located near plants like hostas that will hide them during the summer. Primroses are an excellent choice for spring containers.
Of the hundreds of primroses that can be grown, here are six that are popular garden plants. All need part shade and moist soil; relative needs are given below for each species. Mulching in summer is necessary to keep roots cool and is needed in winter to keep plants from heaving. Slugs and snails are their most serious threats but aphids, flea beetles, and red spider mites can also be problems. All can be started from seed but vegetative propagation is possible for some.
Auricular Primrose (P. auricula)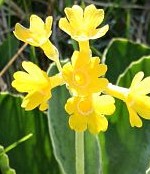 A native of the European Alps, this primrose bears clusters of one-inch wide bell-shaped flowers that are usually fragrant. Although the species has yellow flowers, the flowers of cultivars are may be reds or purple often with a paler eye and contrasting rim. The leaves are thick, two to three inches long and equally wide. Flowers and stems may be covered with a white mealy substance known as farina. The specific name, auricula meaning little ear, refers to the shape of the leaves.
Size: 2-8" H x 8" W
Moisture Requirement: Moderate
Hardiness: Zones 2-8
Drumstick Primrose (P. denticulata)


Dense globular heads of funnel-shaped lavender or white flowers with a yellow eye rise on erect stems above the foliage. The spatualate leaves are wavy, crinkled and three to four inches long at bloom time but elongate to one foot or more after flowering. A native of the Himalayas, this primrose looks especially well growing in rocky places with moist soil.
Size: 8-10" H x 12" W
Moisture Requirement: Moderate
Hardiness: Zones 4-8
Japanese Primrose (P. japonica)

These deciduous primroses bears flowers arranged in two to six whorls on the flower stem. Each whorl consists of eight to twelve flowers ½ to 1 inch across. The flowers may be white, pale pink, crimson, and purplish red, all with a dark or yellow eye. The leaves are slightly wrinkled and eight to twelve inches long. Thrives in a boggy site and blooms in late spring.
Size: 12-24" H x 24" W
Moisture Requirement: Critical; soil must be consistently moist.
Hardiness: Zones 5-7
Polyantha (x polyantha)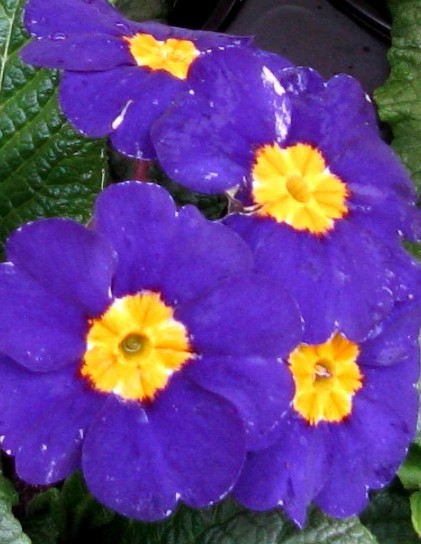 One of the most popular and common primroses in US garden, this group was probably derived from P. vulagaris, P. veris, and P. elatior and has been grown since the seventeenth century. The flowers are 1 ½ inches across and are borne in flat umbels on four to six inch tall stems. Colors range from white to pinks, reds, lavenders, purples, and blue, all with a yellow eye. Double forms are also available. The dark green leaves are wrinkled and four to six inches long.
Size: 8-12" H x 9" W
Moisture Requirement: Low
Hardiness: Zones 3-8
Asiatic Primrose (P. sieboldii)


More heat tolerant than most other primroses, these natives of Japan die back and go dormant by mid- summer. The flowers are 1 to 1 ½" across and borne in umbels of six to ten. They are usually purple with a white eye but may be white or pink. The light green leaves are heart-shaped and two to four inches long. Bloom time is late spring.
Size:4-8" H x 8" W
Moisture Requirement: Moderate
Hardiness: Zones 4-8
English Primrose (P. vulgaris)


The tubular flowers are yellow and blotched in the center with a darker eye. They are 1-1 ½ inches across and borne singly. The wrinkled leaves are 1-3" long at bloom time but double in size after flowering. Considered one of the easiest primroses to grow because it tolerates drier soil and more heat than other, it is a quintessential flower of an English country garden.
Size:6-9" H x 9" W
Moisture Requirement: Low
Hardiness: Zones 5-8