The American Rose Society published its list of top exhibition roses in itsMarch/April 2015 issue of its magazine, American Rose. If you are interested in competing successfully in local or national exhibits this list is important as it tells you what roses the judges are consistently picking for prizes. No matter how much you may like 'Tiffany' or 'Mr. Lincoln' if you enter those roses in rose shows your chances of winning are slim.
The five top exhibition hybrid teas are described below. They are all national winners but may not be the in the top five exhibition hybrid roses in your geographic area because of varying growing conditions and preferences of exhibitors of judges but they are exceptional roses. The top four have not changed position since the last ranking, but 'Let Freedom Ring' moved up one rank from 6th to 5th.
'Moonstone'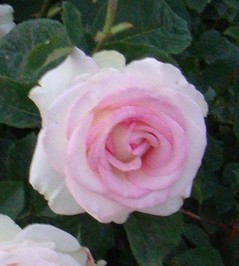 This popular rose has large flowers that open from fat buds and are usually borne singly on long stout stems. The long petals are white on the reverse and pink inside, often with dark pink edges. In hot weather they change to pearly pink and may fade to white. At their best, the flowers are high centered but can have split centers and, less frequently, sunken centers, concerns of exhibitors. The bushes are upright with large healthy matte medium-green leaves. Generally considered disease resistant, 'Moonstone' can have rust problems. It prefers dry weather because rain damages its blooms, and is good for beds, borders, and cut flowers.
Origin: Carruth, US, 1998
Parentage: Crystalline x Lynn Andersen
Color: White, or white with pink
Flower Size :4.75- 5.5″
Petal Count: Full (17-25 petals)
Scent: Mild; spice, tea
Flowering: Repeats in series of flushes
Plant Size: 4.9' H x 3.3' W
Hardiness: Zone 6
ARS Score: 8.3
'Gemini'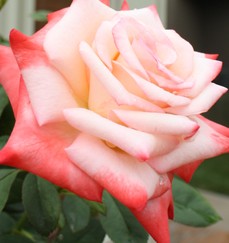 Long pointed buds with large outer petals reflex at the tips as they unfurl to form a flower with a creamy white center surrounded by a dusty pink band. The flowers are borne on long stems usually singly but sometimes in clusters of up to five blooms. The bushes are upright, vigorous, well-branched, with few prickles, and an abundance of dark green, glossy, healthy leaves. 'Gemini' is considered very disease resistance and is prized as a cut flower and for its high center.
Origin: Zary, Bear Creek Gardens, United States, 1999
Parentage: Anne Morrow Lindbergh x New Year
Flower Size: 4-5"
Petal Count: 25-30 petals
Scent: Mild to strong and sweet
Flowering: Flushes throughout the season
Plant Size: 4-6' H x 3-4' W
Hardiness: Zones 5-9
ARS Score: 8.3
'Veteran's Honor'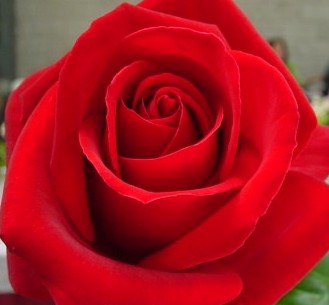 The large high centered flowers open from tall, conical buds and are scarlet crimson at first deepening in color to a dark cherry crimson with time. The long stems are straight and usually bear a single flower, making them good for flower arrangements. The vigorous upright bushes bear crimson new growth, medium green leaves, and a scattering of prickles. Introduced by Jackson and Perkins in 2000 as 'Lady in Red', 'Veteran's Honor' was bred in Southern California and grows best in hot dry climates where its flowers will not be damaged by rain as they slowly unfurl .
Origin: Zary, US, 1995
Parentage: Showstopper x (seedling x 'Royalty')
Flower Size: 5.1"
Petal Count: Double; 25-30
Scent: None to medium; raspberry
Flowering: Flushes throughout season
Plant Size: 4-5' H x 3-4' W
Hardiness: Zones 6-10
ARS Score: 8.3
'Hot Princess'


Introduced as a florist flower, 'Hot Princess' has become a popular garden rose with his classical hybrid tea form and high center. The flowers are borne mostly singly on long straight stems and are excellent cut flower. The deep pink color does not fade even in bright light. The bushes are erect, well branched, and clothed in large dark green leaves.
Origin: Hans Jurgen Evers, Germany, 2000
Parentage: NA
Color: Deep Pink
Flower Size: 2"
Petal Count: Double
Scent: None
Flowering: Flushes all season
Plant Size: 5-7' H
Hardiness: Zones 7-10
ARS Score: 7.9
'Let Freedom Ring'


Long pointed buds open to large strawberry red flowers with high centers and classic hybrid tea form. Flowers are borne singly on long straight stems and are good in the vase. The vigorous bushes are upright to slightly spreading and carry medium sized deep green leaves with a matte finish.
Origin: Earnest Earman, US, 2004
Parentage: Prima Donna × Touch of Class
Color: Red
Flower Size: 5"
Petal Count: 17-25
Scent: Light tea
Flowering: Continuous
Plant Size: 5 ½ – 6 ½' H x 20-26" W
Hardiness: Zones 6b-9b
ARS Score: 7.9