Purple Beach (Fagus sylvatica f. purpurea)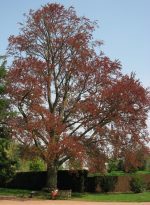 Purple beech is a deciduous tree resulting from a natural mutation of European beech (F. sylvatica), that is native to most of Europe from southern Sweden to northern Sicily and from northern Portugal and central Spain to northwest Turkey.   The trees are large, growing up to 60′ tall and 40′ wide, and have  smooth gray bark and a pyramidal to rounded crown.  The broadly elliptical leaves are 2-4″ long and are fringed with silky brown hairs.  They are purple when they first emerge but become green in the summer and turn coppery in the fall.  Yellow-green male and female flowers appear on the same tree in mid to late spring.  The male flowers are in tassel-like catkins that hang from the ends of the twigs while the female flowers grow in pairs. Fertilized female flowers give way to bristly fruits that are edible.  Since the tree is very large and its branches reach to the ground, it is  suitable as a specimen tree in a large area.  Trees can be pruned to form an attractive hedge.
Height: 50-60′
Light: Full sun to part shade
Soil:  Rich, moist, well-drained; does not tolerate wet, poorly drained-soil.
Hardiness: Zones 5-7
Photo Credit: Wikipedia
Thornless Honey Locust (Gleditsia triacanthos var. inermis) 'Ruby Lace'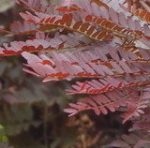 This deciduous tree has pinnately or bipinnately compound with small leaflets  so that raking is rarely necessary. foliage ruby-red as it emerges in spring, bronze-green in summer and yellow in autumn.  The light shade of the canopy combined with the late appearance and early disappearance of the leaves facilitates the growing of grass beneath the tree. In late spring to early summer spikes of greenish yellow inconspicuous male and female fragrant flowers are produced on different trees.  Fertilized female flowers are followed by large twisted brown to purple pods over 3″ long that can be a considerable litter problem. The short main trunk is gray-brown and develops plate-like patches separated by furrows. It is attractive especially in winter but may bear thorns that can be a hazard. Thornless honey locust is tolerant of drought, heat, short term flooding, compaction, and pollution so can be used in difficult sites including urban area such as parking lots and medium strips. Unfortunately, it is susceptible to a considerable number of pests and disease so should not be planted in mass.
Height: 20-35′
Light: Full sun to partial shade
Soil: Fertile, moist, well-drained but tolerates a wide range of soil.
Hardiness: Zones 3-8
Black Cherry Plum (Prunus cerasifer) 'Nigra'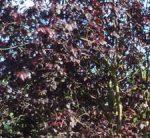 Prunus cerasifer is native to southeastern Europe and western Asia and grows 15-20′ tall.  The cultivar 'Nigra' has dark purple twigs and leaves that emerge bronze in the spring, turn almost black in the summer, and orange to red in the fall.  From early to mid spring pale pink,  single, cup-shaped flowers .8″ across with 5 petals emerge from dark pink buds and cover the branches before the leaves appear.  Red or yellow fruits are occassionaly produced and attract birds.  Plants are prized for both their foliage and floral display and are a good choice for a speciman plant but can also be planted en mass and used as a hedge or screen.
Height: 15-20′
Light: Full sun to parital shade
Soil: Moderately fertile, moist, well-drained
Hardiness: Zones 4-9
Height:
Light:
Soil:
Hardiness: Zones
Photo Credit:
Height:
Light:
Soil:
Hardiness: Zones
Photo Credit: