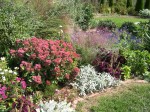 With Father's Day drawing close you have been thinking about gifts for Dad .  Perhaps your dad likes to garden and a gift that pays recognition to his gardening instincts would be special.  Some dads are very much into the hard work involved in gardening and enjoy the "big muscle" sort of activities that are required to get things going and keep them running.  Others are inclined to enjoy the more poetic aspects of gardening, while still others pursue an interest in preserving nature.  There are many motives involved in gardening and, therefore, many different kinds of gifts that will meet the needs and wants of a gardening dad.  Here is a list that provides a variety of gift ideas, all of which can be bought online.  Let the list provide inspiration to lead you to the perfect choice.
Let's start with the practical: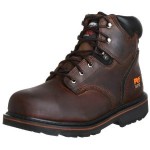 1.  Steel toe boots: Heavy gardening chores often involve heavy weights that can hurt toes and feet. A good pair of steel-toed boots will protect the toes as well as provide good support, traction, and comfort.  They come in a variety of price ranges.
Buy Timberland Pro Men's Pitboss 6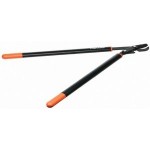 2. Long handled clippers. If there are pruning jobs that have to be done each year these clippers are a real boon. They are perfect for the big 2" vines or branches that can not be cut with the ordinary one handed clippers.  The long handles maximize the cutting power making hard jobs much easier.
Buy Fiskars 9154 PowerGear 31-1/2-Inch Bypass Lopper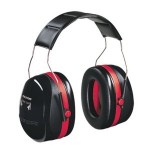 3. Earmuff: Does your gardening dad ride a power lawn mower and you fear for his hearing?  How about a set of earmuffs to protect his ears from loud sounds, if he has a shop, he can also use them there.
Buy Peltor H10A Optime 105 Over-the-Head Earmuff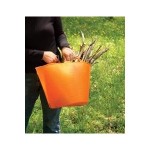 4. Garden Trug: This handy 7 gallon trug made of UV and frost resistant polyethylene is ideal for gathering vegetables that can be washed right in the trug, carrying mulch, compost, leaves or weeds, and hauling up to 150 pounds.  It is tough enough to carry bricks and flexible enough to pinch together to form a sprout so you can water your potted plants.  And you can choose from several different colors.
Buy Seven Gallon Trug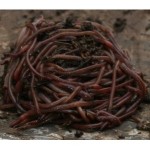 5. Worms: If your gardening dad has a compost pile perhaps he would like an order of composting worms. Of course, he can put them directly into the garden or use them to create worm castings that are considered a natural deterrent to soil born plant diseases and insects.
Buy Red Wiggler Composting Worms 1 Lb Package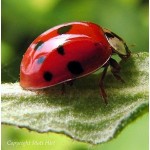 6. Lady Bugs: A natural predator of aphids, mealy bugs, scale, leaf hoppers and other pests, they also add charm to the garden while taking care of many insect pests, reducing the need for chemical.
Buy 1500 Live LadyBugs – A GOOD BUG! – Lady Bug

You can also buy a ladybug house!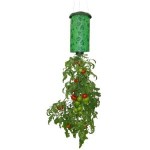 7. Topsy Turvy Upside-Down Tomato Planter: This one is good for the gardening dad that likes a novelty.  Of course, it is also good for the dad that would like to have a vegetable garden but doesn't have enough space.  If he has a place for a hanging container, this is a great way to have fresh tomatoes without a garden.
Buy Felknor Ventures 82506 Topsy Turvy Upside-Down Tomato Planter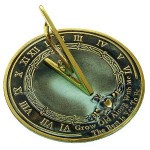 8. Sundial: A garden ornament is always a pleasure to receive and what could be a more interesting garden ornament than a sundial?  Placed on a podium (ordered separately) and surrounded by flowering plants or shrubs it brings a feeling of nostalgia an permanence to any garden.
Buy Rome RM2308 Brass Sundial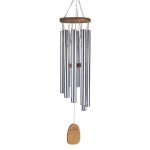 9. Wind chimes: Music to the garden adds a whole new dimension to the garden experience and these wind chimes are special.  Their sounds are lower than the usual kinds and create the ambiance of a cathedral.  Soprano and baritone chimes are also available and make good companions.
Buy Woodstock Percussion GAS Gregorian Alto Chime, Silver
10. Hammock: After a hard day working in the garden what could be more enjoyable than lying back in a hammock with a cool drink and enjoying the fruits of your labor?  The one shown is made of cotton so is cool; it is light and easy to install so can be taken on camping trips too.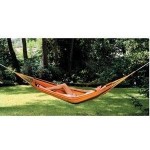 Buy Texsport La Paz Hammock