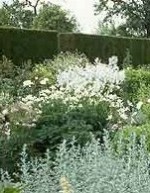 The cottage garden brings to mind images of a romantic scene overflowing with charming informality, abundant plant material, and quaint garden ornaments. But the original cottage gardens were borne out of the economic necessity to supplement the diet of the owners with fruits and vegetables as well as provide culinary and medicinal herbs. The flowers were of secondary importance and tucked into areas here and there to bright up the utilitarian garden. Thanks to the Victorian watercolorists and their interpretation of this scene, the modern concept of the cottage garden bears only a small resemblance to the original idea.
Make no mistake, the modern cottage garden is not an easy garden to create and maintain. It's lack of formality and wild exuberance does not come from neglect and must be constructed on a foundation of solid design principles. Once established, it is labor intensive and for that reason has declined in popularity during recent times.
Here are some features associated with the modern cottage garden.

Enclosure
Traditional cottage gardens were basically rural gardens and needed to be protected from grazing cattle so a hedge would have surrounded the garden. Fences or walls give a similar sense of enclosure in a modern garden and a picket fence also provides charm. If an existing wall or fence is ugly, fear not, and plant climbing vines on it.

Arbors, Arches, and Trellises
These structures add to a feeling of enclosure and are especially appropriate when paired with gates and benches. Cover them with vines such as climbing roses or clematis to add more color and fragrance to the scene.

Paths and Walkways
Small, narrow paths enhance the intimate feel of the garden but if you expect many visitors consider paths that will accommodate at least two people walking side by side.

Ornaments
Pump or well head, benches, sundials, and containers such as strawberry or herb pots all add to the ambience as well as provide a focal point in specific areas. Include birdbaths, birdhouses, and feeders to attract birds and bee skepts or hives to accommodate these all important pollinators.

Lawn
Keep it to a minimum; after all, the real cottage garden was primarily utilitarian and included flowering plants to add beauty.

Cottage or Shed
After all, the name "cottage garden" implies that a cottage is involved so if you have the inclination and money include a garden shed that looks like an English cottage or atleast a humble, charming abode. If your house is small and cute, you are blessed, and can consider it the cottage but many cottage gardens are just as lovely around a grand home. After all, a cottage garden is more a way of thinking than a reality.

Water Feature
A pond adds movement to the garden and is appropriate in a cottage garden setting especially if you could include some ducks. More elaborate features such as fountains might look out of place unless they have a simple rustic look.

Plants
Diversity, and abundance are the first two words that come to mind when I think of a cottage garden. Remember, the original cottage gardens were primarily food producing gardens and ornamental plants were ornaments. The ornamental plants were usually "pass along" plants, obtained from neighbors and friends and were vigorous and easy to grow.

A mix of plants types include:

Trees: Small trees give verticality to the garden while providing some shade. Fruit tree are especially nice because they give a utilitarian look while being aesthetically pleasing.

Shrubs: Include some fruit bearing bushes along with the ornamental shrubs. A combination of deciduous and evergreen shrubs gives structure to the garden and provides all year interest.

Perennials: Since most perennials don't bloom all season long, they provide a dynamic element to the garden as they come in and out of bloom. Include flowers like coneflowers that attract butterflies and bees. Don't forget to include herbs like rosemary, mint, and thyme that can be attractive as well as tasty.

Annuals: The bright colors and long season bloom of most annuals keep the cottage garden looking good all season, but don't forget to include vegetables and annual herbs like basil or dill even if grown in containers or tucked into the flower beds.

Vines: Both annual and perennial vines can hide unsightly structures, fill a blank wall, and increase the feeling of enclosure. Vines like grapes provide fruit, while other like climbing roses enliven an area with color and fragrance.
A typical cottage garden will not have all of these characteristics. Most importantly, it should reflect the creator of the garden and how he/she interprets the concept of the cottage garden. It is not a garden for all gardeners as it takes a lot of time and work to get it started and keep it going. After you have studied and be inspired by the Victorian pictures of cottage gardens throw them out and work out your own interpretation. Isn't that what gardening is really about?