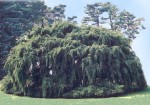 The dark green foliage of hemlock trees is always a welcome sight in a mixed border, but this weeping form is especially attractive. We planted one as a specimen tree in the partly shaded front yard of our Annapolis house and it slowly but steadily grew into a magnificent tree, many times wider than high. It survived the shade of our yard as well as the attempts of our children to hide in the cave produced by its weeping branches. Every few years in the fall it would reward us with an abundance of tiny cones that I collected and used for all sorts of Christmas decorations including an 8" kissing ball that is now over 30 years old and still adorns the foyer chandelier during the holidays. Our particular tree has always held a special place in the heart of the headgardener since he propagated it by grafting from one of the two original trees found back in the mid-19th century by Mr. Henry W. Sargent, whose name the tree shares.
Type: Evergreen coniferous tree.
Outstanding Feature: Dark green foliage; ability to tolerate shade.
Form: Weeping.
Growth Rate: Slow.
Bloom: Small cones less than ¾".
Size: 10-15' h x 15-30' W; can be kept small by judicious pruning.
Light: Full sun to part shade.
Soil: Average, moist, well-drained; does not tolerate drought.
Hardiness: Zones 3-7.
Care: Water during dry spells.
Pests and Diseases: Susceptible to rust, needle blight, canker, bagworms, borers, leaf miners, saw fly, spider mites, and woolly adelgids, but a well grown tree is unlikely to experience any of these.
Propagation: Grafting.
Comments: Outstanding specimen when placed so it hangs over a wall or body of water.