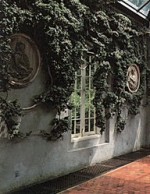 The first time I met creeping fig was early spring in the orangey of Dunbarton Oaks, Georgetown, District of Columbia. It covered the walls of this sunny site creating a lush green grove of vegetation that was especially welcome after the cold gray days of winter. Since then I have grown it as a house plant with out great success, and on the cinder block wall at my southern California home where it is slowly but surely covering the surface with its pretty heart-shaped leaves, forming a complex design on the gray surface beneath. A neighbor has creeping fig growing up the front of his stucco house and it creates such a fabulous appearance I wanted to create the same look in my own backyard. Creeping fig is said to be a vigorous vine but with the sparse water in southern California it is well behaved and quite manageable. It grows by root-like holdfasts that can damage wood so don't grow on a wooden house or fence. If you like topiary, creeping fig is an ideal vine to use as it grows quickly and clings readily.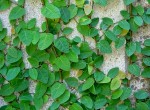 Type: Tender, evergreen vine.
Bloom: Inconspicuous, rarely seen; fruit small and fig-like.
Foliage: Juvenile leaves, heart-shaped, 1" x ¾"; mature leaves, 3" x 2".
Size: 40' H.
Light: Prefers part shade put tolerates full sun.
Soil: Average, moist but well-drained; tolerates drought and is better behaved in lean soil and dry conditions.
Hardiness: Zones 8-11.
Care: Trim back when growth excessive.
Pests and Diseases: None of importance.
Propagation: Layering; cuttings.
Outstanding Selections: 'Minima' (smaller leaves and less vigorous than species)