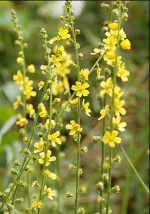 Agrimony is a perennial herb that has a long history of medicinal use. In ancient Greece it was used for eye problems but since then has been prescribed for a variety of ailments including male impotency, internal bleeding, back pain, rheumatism, digestive problems, wounds and sore throats. It has astringent properties and can be made into a lotion or used in a bath to ease muscular aches and pains. The leaves and stems can be made into a yellow dye and the French drink a tea made from its leaves for pleasure. Agrimony may have some medicinal benefits and a botanist at the USDA considers agrimony as safe as coffee.
The plant is tall, slightly branched, hairy, and arises from a deep rhizome. The leaves are deep green, with a serrated edge and vary in size. The yellow flowers are borne in spike-like inflorescence during the summer and are composed of five egg-shaped petals. The flowers give way to fruits with bristly burrs that aid in seed dissemination. The whole plant is slightly aromatic but the flowers have a spicy fragrance. A native of Europe, acrimony is common in parts of western United States growing in woods, and along roadsides and fences. It is attractive when grown in naturalized areas, rock garden, wildflower border, or an herb garden.
Type: Herbaceous perennial herb
Bloom: Five petaled yellow flowers 1/4″  across are borne in racemes in summer.
Foliage: Deep green serrated pinnately compound leaves are downy and range in size for 3-8" long.
Size: 1-5' H
Light: Light shade
Soil: Average, dry; tolerant of a wide range of pH
Fertilizer: None needed
Hardiness: Zones 6-10
Care: Low maintenance
Pests and Diseases: Susceptible to powdery mildew
Propagation: Seed (will reseed).