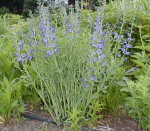 If you need a large, striking plant, that keeps its good looks all season this is the plant for you. In spring, Baptisia is one of the first perennials to send up its foliage and what beautiful foliage! Gray-green in color, the leaves are three lobed and are borne on gray stems. The plant quickly develops into a substantial, vase shaped bush and sends up 12" long spikes bearing soft blue flowers similar in shape to those of sweet pea. Black pods 2"-21/2" long follow and remain until fall when the stems and leaves die down. They add to the over all attractiveness of the plant and are also desirable additions to flower arrangements. Although Baptisia is a large plant, it is not heavy or coarse and therefore looks great at the front or back of the border where it can add variety in size as well as in texture and color. Baptisia is very long lived and resents being moved so plan ahead and place it where it can remain, be happy, and be enjoyed.
Type: Perennial.
Bloom: 1" blue sweet pea like blooms in spring.
Size: 3'-4'h x 3'-4' W; vase-shaped.
Light: Full sun for best growth; in shade it will need staking.
Soil: Prefers moist, deep, humusy, acid soil but tolerates poor soil.
Fertilizer: Apply a high phosphorus (middle number) water soluble fertilizer immediately after flowering.
Hardiness: Zones 3-9.
Care: Water during droughts but do not treat like it is a perennial needing 1' water per week. Remove the spikes after flowering to maintain vigor. Trim back the foliage in the fall when it looks bedraggled.
Pests and Diseases: None of importance.
Propagation: Can be grown from seed collected from garden plants but may take 2 years to bloom and 3 years to gain full size. Divisions are possible but very difficult because the root is a taproot. Expect some failure if you attempt division.
Companion plants: Carolina lupine(yellow); cranesbills, miniature red roses, asters or chrysanthemums at its feet to hide its "ankles".
Other Species of Note: There are also white and yellow flowered species with similar characteristics.