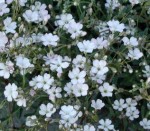 A relative of the florist's beloved Gysophila paniculata, creeping baby's breath is a trailing form under 8" tall and has larger, single flowers that are borne in flat clusters. In a couple of years the plant forms a dense mat with slender gray leaves and is particular attractive when cascading over a wall. The plant is equally useful as an edger, in containers, or in a rock garden where its need for well-drained soil can be met. It tolerates heat well but not wet feet. The generic name Gypsophila refers to the fact that the plants like gypsum indicating that they prefer a high pH (basic soil). Trailing baby's breath is less picky in this regard than G. paniculata and tolerates acid soil.
Type: Herbaceous perennial
Bloom: White to pink single flowers ¼" across in early summer
Foliage: Narrow blue-gray leaves ½-1" long
Size: 4-8" H x 12" W
Light: Full sun
Soil: Average, well-drained, neutral to slightly alkaline but tolerates some acidity.
Hardiness: Zones 3-8
Care: Low maintenance; cut back to the crown in late winter to tidy up the garden (optional)
Pests and Diseases: None of significance
Propagation: Seed (do not cover); division in summer; cuttings of nonflowering terminal stems summer to fall
Companion plants: Campanula, lavender, ornamental grasses such as Festuca sp.
Outstanding Selections:
'Alba' (white flowers)
'Rosea' (pale pink flowers).