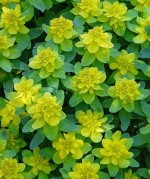 The compact, mounds of rich green leaves are beautiful in their own right but when the small bushy plants blooms with yellow flowers all over its surface the sight is breath-taking. The flowers themselves are actually very small but they are enhanced by the greenish yellow bracts that surround them. A native of Eastern Europe, the plant is tough and survives drought. It is easily propagated or grow from seed and often reseeds itself in the garden. It makes an excellent choice for rock gardens or containers.
Type: Herbaceous perennial
Bloom: Small yellow flowers are produced in clusters surrounded by greenish-yellow bracts in spring.
Foliage:Medium green succulent leaves that turn bronzy red in the fall.
Size: 16-18" H x 18"
Light: Full sun in the North, afternoon shade or part sun in South
Soil: Average, well-drained
Hardiness: Zones 4-10
Care: Low maintenance
Pests and Diseases: None of significance
Propagation: Seed, stem cuttings, division
Companion plants: Coreopsis 'Zagreb' , Geum coccineum, horned violets (Viola cornut), Nepeta 'Six Hills Giant', moss pink (Phlox sublata), rock cress (Aubrieta spp.), blue fescue (Festuca cinerea), Jacob's ladder (Polemonium caeruleum).