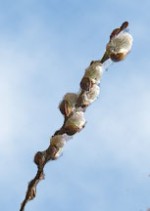 One of the earliest shrubs to bloom in our garden is our pussy willow and the arrival of its fuzzy catkins renews spirit like nothing else. Long before the first bloom appears, however, I cut some branches and bring them inside to force them into bloom so I can enjoy them while nothing else is available. If I put them in a vase without water once the catkins appear they last for a year or more. Meanwhile the shrubs outside thrive in a wet area of our property where they soak up some of the excess runoff when it rains and provide a leafy screen from spring to fall. They are large shrubs but if you have room for even one you will be handsomely rewarded; just be sure that you buy a male because it produces the larger and prettier catkins than the females.
Type: Deciduous shrub or small tree.
Outstanding Feature: Fuzzy pearl gray male catkins in late winter to early spring.
Form: Upright, irregular.
Growth Rate: Rapid
Bloom: Yellow stamens produce color on otherwise insignificant flowers.
Size: 6-15' H x 4-12' W.
Light: Prefers full sun but tolerates some shade.
Soil: Medium to wet well drained sandy loam; intolerant of dry soil.
Hardiness: Zones 4-8.
Care: May be cut back to the ground every 3-5 years to control size and promote longer stems and larger catkins. Catkins are produced on previous year's growth so prune after flowering.
Pests and Diseases: Susceptible to blights, powdery mildew, leaf spots, gray scab, cankers, aphids, scale, borers, lacebugs and caterpillars. Like other willows, the wood is weak and branches may be broken by ice and snow.
Propagation: Cuttings root very easily especially in spring; cut pieces of stem about the diameter of a pencil and sick them in the soil. Seeds are viable for only a few weeks after maturing.
Comments: Rapidly growing shallow root system may block sewers and drains.