Shady wall often offer cool moist conditions that sites in full sun do not.  Some climbers can tolerate sun, some full shade, but few thrive in all three equally.  Most of these vines climb by twining and need a support and even the self clinging ones benefit from support for a year or two until they get established.   Climbers such as the ones below do well growing on trees, shrub,  although some are so vigorous they must be held in check of they will suffocate their companions.  All will do well on a trellis, fence or other garden structure and can add greatly to the beauty of the site.
Armand Clematis (Clematis armandii)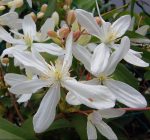 Native to central and southern China to northern Myanmar this fast growing evergreen vine can grow up to 30′ long and climbs by twining.  The glossy dark green leaves have three leaflets that are 3-6″ long, leathery and droopy. In early to mid spring clusters of 2-15 fragrant, creamy white flowers appear on the previous year's growth and are attractive to bees, butterflies and hummingbirds. Each flower  is 2-2.5″ across and has 4-8  petal-like parts and numerous long stamens. The fruit is an achene with a long silky plumose tail and provides interest long after the flowers fade.  Like other clematis',  C. armandii grows best when the roots are in the shade where they can be cool and stay moist. The vines are vigorous and can quickly cover a structure like a fence so can be useful for providing a screen.
Length: to 30′
Light: Full sun to part shade but roots must be kep cool and moist.
Soil: Average, medium moist, well-drained; roots must be kept cool and moist.
Hardiness: Zones 7-9
Photo Credit: Wikipedia
Coral Plant (Berberidopsis corallina)
Coral plant is an evergreen vine found native to forest ravines in Chile.  It is now an endangered species due to forest clearance for timber production but is available in nurseries.  The vine grows by twinning and can reach 20′ long.  The dark green leathery leaves are heart-shaped and have spines on the margins. The pendulous coral flowers are produced in summer and autumn on long pink stems growing from the upper leaf joints. They are berry-like at first but star shape when open. Plants are effective growing on a trellis or over an evergreen tree or shrub.
Length: 20′
Light: Partial to full shade
Soil: Fertile, evenly moist, well-drained, acid to neutral
Hardiness: Zones 8-9
Photo Credit:Wikipedia
Purple Wintercreeper (Euonymus fortunei 'Coloratus')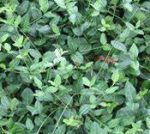 Native to China, Korea, and Japan, Euonymus fortunei  can be grown as a ground cover, mounding shrub, or vine but the cultivar 'Coloratus' tends to be a trailing ground cover 6-9″ tall until it comes in contact with a vertical surface and then it acts as a vine and begins to climb up to about 20′.  The ovate to elliptical leaves are up to 2″ long  and shiny dark green until fall they they turn reddish purple.  Somtimes plants produce small inconspicuous greenish-white flowers in early summer, most often when growing on a vertical surface.  Plants tend to spread by forming roots from trialing stems as they creep along the ground surface.  Plants can be used to control erosion and are vaued for covering a wall, fence or other structure.
Length: 20′
Light: Full sun to part shade
Soil: Average, medium moist, well-drained; drought tolerant
Hardiness: Zones 3-9
Creeping Fig (Ficus pumila)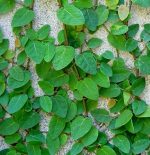 Native to East Asia, this fast-growing woody evergreen vine grows up to 40′ long and can creep on the ground or climb on trees, fences, walls  and other structures.  It climbs by means of aerial roots that produce a sticky substance that hardens when dry and can damage the surface it grows on.  The  heart-shaped juvenile leaves are up to 1″ long while the mature leaves are elliptal to oblong and up to 4″ long.  Inconspicuous flowers produce pear-shaped purple fruits that are ornamental and edible.  Creeping fig does well in containers indoors but does not produce flowers and fruits.  It is an excellent houseplant including as topiary and is very decorative when grown on a wall outdoors.
Length: 15′
Light: Part to full shade
Soil: Average, medium moist, well-draine; tolerates lean and dry soil.
Hardiness: Zones 8-11
Persian Ivy (Hedera colchica)  'Sulfur Heart'
Native to the  cloud forests, stream valleys and mountains of the Near and Middle East, Persian ivy grows as a ground cover but can quickly climb up to 50′ by aerial rooots on available trees, walls, and garden stuctures.  The leathery leaves of 'Sulfur Heart' are 4-10″ long, have dentate margins. and are splashed with yellow and yellow green.    From late summer to late fall, small greenish flowers appear in umbels on mature stems.  The flowers are attractive to bees and other insects and the round black berries that follow are attractive to birds.  The cultivar 'Sulphur Heart' is the hardiest of the Persian ivies, and  is fast growing and shade tolerant.  It is a good choice for a ground cover, topiary, erosion control, and trained on a trellis, wall, or other garden structure especially in shady areas. The cultivar 'Dentata Variegata is similar but has leaves with irregular creamy white margins instead of splashes of yellow and yellow green, and is hardy only to zone 7.
Length: up to 50′
Light: Part shade to full shade
Soil: Average,medum moist, well-drained
Hardiness: Zones 6-9
Photo Credit: Wikimedia Commons
English Ivy (Hedera helix) 'Green Ripple' and 'Eva'
English ivy grows by means of aerial rootlets with matted pads that cling tightly to various surfaces. The leaves are waxy and have conspicuous veins.  The small greenish-yellow flowers are produced in umbels up to 2" wide from late summer to late fall and are followed by .3" wide black-purple fruits attractive to wildlife.  Two outstanding cultivars for shady sites are 'Green Ripple' with its deeply lobed and pointed leaves, and 'Eva' with its variegated leaves featuring broad, creamy white margins.  English ivy is considered invasive in many areas and can do serious damage to stucco, wood, brick mortar, and aluminum siding.  It is tolerant of shade and dry conditions so makes a good ground cover in difficult sites and is also attractive growing on trellis, fences, and walls and in containers.
Length: 'Geen Ripple' up to  '26; 'Eva' 6-12′
Light: Part shade to full shade
Soil: Average, medium moist, well-drained
Hardiness: Zones 'Green Ripple' 5-9; 'Eva' 6-9
Photo Credits: Wikipedia
Blue China Vine (Holboellia coriacea)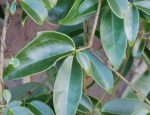 Also called sausage vine, this woody evergreen climber is native to central China where it grows in scrubby thickets and mountain slopes.  Growing over 30′ long.  The plants have twining stems and waxy leathery leaves that are bronzy when new and then turn glossy dark green.   They each have three oblong leaflets that are up to 6″ long and have entire margins. In spring, fragrant white to purple male and female flowers appear in axillary clusters on the same plant and are attractive to pollinators. The fertilized female flowers are followed by pink colored sausage-shaped berries that are 2.5″ long, have white pulp, and are edible but rarely eaten.  Blue China vine grows well in sun as well as shade and in many types of soil so is an excellent choice as a climber in many different garden sites.
Length: 15′
Light: Full sun to full shade
Soil: Average, medium moist, well-drained
Hardiness: Zones 8-11
Chilean Bellflower (Lapageria rosea)
Native to  damp  coastal woodlands of Chile and Argentina, this twining evergreen vine grows over 30′ tall among shrubs and trees and has leathery lanceolate leaves with 3-5  conspicuous parallel veins.  In summer the vines produce pendulous bell-shaped-flowers that are up to 3″ long,  rose pink, and pollinated by hummingbirds.  The flowers have  6 thick, leathery tepals and give way to elongated fruits with tough skins and containing many small seeds.  Numerous cultivars are available that vary in color and floral structure.  Although plants are somewhat tender, they can be used outdoors as climbers on trelles and other garden structures in warm climates and in pots and as houseplants elsewhere.
Length:   30+'
Light: 9-11
Soil: Average, consistently moist, well-drained, neutral to acidic
Hardiness: Zones 9-11
Photo Credit:Eric Hunter Wikipedia
Japanese Honeysuckle (Lonicera japonica)  "Hall's Prolific'/'Halliana' 
J
apanese honeysuckle is a  deciduous to semi-evergreen perennial vine native to eastern Asia.  The  young stems may be reddish and fuzzy and become brown with exfoliating bark when mature.  The vine  grows up to 33′ tall and climbs by twining.  The oval leaves are sometimes lobed, and are up to 3″ long. The tubular flowers  have 2 reflexed lips and long stamens,  and are white fading  to yellow.  They  have  a sweet vanilla scent, appear from spring until mid summer, and give way to black berries containing a few seeds.  Plants spread by seed and stems that root when they touch the ground.  Although the species can become invasive and choke desirable shrubs and trees, the cultivar "Hall's Prolific'/'Halliana' is a popular ground cover.
Length: to  33′
Light: Full sun to parital shade
Soil: Average, moist to dry, well-drained
Hardiness: Zones 4-9