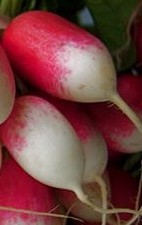 First introduced in the late 1800s, 'French breakfast' radish is considered an heirloom radish and is still popular and available in seed stores and from catalogs. The main attraction is the crisp texture and mild flavor, but the long shape and distinctive coloration are appealing too. Measuring 2-4" long, the oblong radishes are rose scarlet with blunt white tips. They are best harvested as soon as possible as they tend to turn pithy.
See also my post on growing radishes.
Days to Harvest:  25
Planting Date: As soon as the soil can be worked in the spring; in late summer for fall crop.
Spacing: Sow seed ¼- ½ " deep, 1-3" apart in rows 12-24" apart
Germination: 4-6 days
Size: 5-6" H x 4-5" W
Light: Full sun
Water: Apply water regularly and do not let radishes dry out.
Soil: Average, moist, well-drained.
Fertilizer: Prepare the bed with a light application of a balanced fertilizer before planting.
Care: Begin to harvest in about 25 days from planting
Pests and Diseases: Soil grubs; leaf miners
Suitability for containers: Yes, grow in 6" of soil