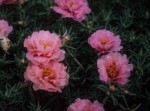 Moss rose is a 'must have' for my garden because of the long bloom they bring to my garden. They come in so many brilliant colors I can use them in may places in my garden to provide color from summer into fall. Add to that the fact that these plants thrive in hot, dry conditions, and you have a great easy care garden plant. The plants are low growing with prostrate stems and thick succulent leaves. The flowers are 2' wide and are semi-double or double so that they look like miniature roses. They are great for rock gardens or the front of the border where they more than earn their keep. They used to have a reputation for not opening in the late afternoon, evening, or overcast days, but new hybrids have reduced this trait so that I never even see evidence of it in my garden.
Type: Annual.
Bloom: Two inch flowers in vivid colors including red, yellow, pink, orange, peppermint, apricot, tangerine, fuchsia, and white all summer into fall.
Size: 6" H x 12" W.
Light: Full sun.
Soil: Average, well drained. Will not tolerate wet feet.
Fertilizer: Apply general fertilizer when planting.
Care: Cut back by half in mid summer if plants become floppy to encourage late blooms.
Pests and Diseases: In areas of high heat and humidity, and afternoon rains, root rot may cause the demise of the plants.
Propagation: Seed (but 6 packs are readily).
Companion plants: Annual ageratum (Ageratum houstonianum) , creeping zinnia (Sanvitalia procumbens), dusty miller (Senecio cineraria) or other silver plants such as Artemisia 'Silver mound', globe amaranth (Gomphrena globosa).
Outstanding Selections: Sundial series has huge variety of colors and provides semi-double plants on vigorous plants.
Comment: I have bought six packs of both one color and mixed colors and I strongly suggest that you buy six packs of one color.  The mixed colors often have two plants of different colors growing entwined with each other and unless the color combinations work for you in your garden setting, you will have to live with it as separating them is not easy. Six packs of all one color are more difficult to find but worth the effort unless you like a mixture of colors in the garden.