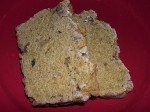 Autumn means lots of things but one of the most pleasant is pumpkins and pumpkins mean all sorts of yummy recipes like pumpkin bread. This is a quick bread and so is easy to make with no kneading or rising time. The large amount of nuts in it make it extra crunchy as well as adding a lot of flavor. We paired it with soup; one night a bean soup the next a southwestern chicken soup. Like all quick breads, it changes from one day to the next so we toasted it on the second day and enjoyed it just as much. We also toast it for breakfast. Delicious! Two loaves.
Ingredients:
1 ¾ cups pumpkin pureed (fresh or canned)
1 ½ cups dark brown sugar, firmly packed
1 stick ½ cup) butter or margarine
3 large eggs at room temperature, lightly beaten
5 cups all purpose flour
2 tablespoons baking powder
1 teaspoon cinnamon
½ teaspoon nutmeg
½ teaspoon salt
2 cups walnuts, chopped
Directions:
1. Preheat oven to 350 F (325 for glass).
2. Grease two 8 ½" x 4 ½" loaf pans.
3. In large mixing bowl, mix and blend pumpkin, brown sugar, butter, and eggs.
4. In another bowl sift together four, baking powder, cinnamon, nutmeg, and salt.
5. Mix the dry ingredients into the pumpkin mixture. The batter will be stiff.
6. Stir in walnuts.
7. Pour into pan and push the batter into the corners with spatula and pushing the batter slightly higher along the sides than in the middle.
8. Bake for about an hour until a metal skewer inserted into the center comes out clean and dry. If bread is not done, bake for an additional 10 minutes and test again.
9. When bread is done, remove pans from oven and cool on racks for 10 minutes.
10. Remove cooled loaves from pans and when room temperatures wrap well in plastic or foil.
Be sure and have a taste before packing it up and begin dreaming about the accompaniments you can make for this delicious bread.