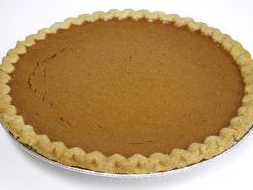 I had never been a fan of pumpkin pie until my mother in law gave me this recipe from the Eastern shore of Maryland but I am a convert. It includes a large amount of cinnamon and nutmeg in addition to brandy and rum and is unique in texture as well as taste. The recipe makes a 9" pie with enough filling left over for a small pie.
Ingredients:
Prepared pie crust for 9" pie (purchased or your own favorite recipe)
15 oz can pumpkin
3 large eggs, separated
½ stick butter, melted
1-3 cups white sugar (I found 3 cups too sweet and use 1 cup)
3 tablespoons cinnamon (yes, three tablespoons)
1½ tablespoons nutmeg
½ cup highball glass each rum and brandy
Directions:
1 Preheat oven to 350 F.
2 Combine and blend all the ingredients except the egg whites.
3 Beat egg whites until they form stiff peaks and fold beaten into pumpkin mixture.
4 Pour into prepared piecrust and bake for 45 minutes or until piecrust is light brown.
The alcohol in the brandy and rum dissipates during cooking leaving only the taste so this recipe is acceptable to people who avoid alcoholic beverages.