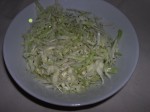 When I make stew I think of this cabbage salad. It is the perfect accompaniment adding a bit of tang to the meal and providing contrasts in both color and texture. I have been making this salad since the 60's when I got the recipe from a roommate in Southern California who was a Spanish teacher. I think it was her year in Spain that yielded this recipe; she served it with a traditional Spanish stew flavored with chocolate. It was a great stew but it was the cabbage recipe that remained with me all these years. It is very simple and quick to make and makes a good alternative to coleslaw.
Ingredients:
2 cups cabbage(about ½ a medium head)
1 tablespoon olive oil
1 lemon
salt and pepper to taste
Directions:
1. Slice the cabbage very, very finely; the finer the better. I use a serrated knife for best results. Some food processors might do this but mine does not. Chopping the cabbage is NOT a good alternative.
2. Sprinkle on the olive oil and toss until cabbage is coated.
3. Add the juice of one lemon (bottled lemon juice does not work).
4. Add salt and pepper to taste and toss.
This recipe is definitely best when the cabbage is tender and sweet. Old, tough cabbage is hard to slice finely and lacks the taste and texture of the tender cabbage. Likewise, a lemon is an essential ingredients for taste although I will admit to cheating on occasion and using bottled lemon juice with a couple of drops of lemon extract. It is not nearly as good.