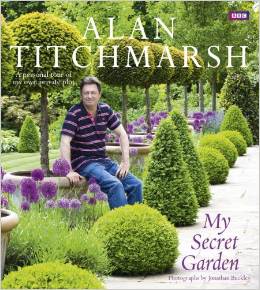 British author, TV presenter, and professional horticulturalist, Alan Titchmarsh's book, My Secret Garden, chronicles the development of his private garden on a four acre plot surrounding a Georgian home in Hampshire, England. The creation of the garden took ten years and is still a work in progress; it was photographed for the book over a seven year period. The numerous photographs accompany a running narrative that includes the stories of the author's aspirations, successes, and failures as he designed, planted, and enjoys his garden.
To enjoy the book fully, the reader should first look at the map in the back of the book (p 188-189) to get an overview and better understand the design of the garden. Armed with the general layout in mind, the reader can then proceed to go through Titchmnarsh's garden season by season as the author organized the text. The garden contains many different areas reflecting different styles each with its own beauty at different times of year. You visit a chestnut border full of dwarf narcissus, a meadow with wildlife pond, a terrace punctuated with boxwood topiary, and borders all around the house. You see close-ups of Titchmarsh's favorite flowers like 'Matona' monarda, 'Constance Spry' roses against a backdrop of pink tinged Actnidia kolomikta leaves, and the autumn color of Acer palmatum 'Elegans'. You read how Titchmarsh's came to plant yews in massive pots, that he plays croquet without the slightest idea of the rules, and that he will never settle for one plant when he can have two. His conversation is warm, friendly and frank. As you turn the pages of the book on your stroll through Titchmarsh's garden you almost get the feeling that Titchmarsh is by your side entertaining you with all his personal recollections, and introducing you to his philosophy of gardening; a memorable and very pleasant experience.
To buy My Secret Garden: A Personal Tour of My Own Private Plot from Amazon.com click here.