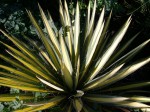 When I look out across 100 feet of lawn to my perennial garden in winter the plant that first catches my eye is 'Color Guard'. It's canary yellow color is an asset to my garden all year long but in winter when most other plants are sleeping, 'Color Guard' is going strong and provides a bright focal point. I admit that I am fond of all yucca's for their architectural quality and I have several but 'Color Guard' is the most outstanding for its winter interest. There are other variegated yuccas but 'Color Guard' dazzles because the yellow band down each of its sword shaped leaves is wider and a more intense yellow than that of others yuccas I have seen or grown. For more interest, the leaves have beautiful white curling fibers on their margins.
Type: Herbaceous perennial.
Bloom: Nodding creamy white bell shaped flowers are borne on tall (6') spikes in mid summer.
Size: 2-3'H x 2-3'W.
Light: Full sun to part shade.
Soil: Thrives is rich, evenly moist soil but tolerates less.
Hardiness: Zones 4-10.
Pests and Diseases: Susceptible to cane borers, scale insects, and fungal leaf spot but rarely a problem.
Propagation: Rooted suckers can be separated in spring; root cuttings in winter.
Companion plants: Gives a desert look with cacti and succulents such as sedums, hens-and-chickens (Sempervivum spp.), spruge (Euphorbia spp.); also look good with a variety of shrubs such as junipers, broom (Genista sp), spireas, and barberries (Berberis spp.)
Comments: The margins and central band of yellow may develop a pink color in cold weather that remains until early spring.